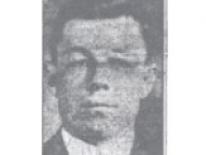 Officer Killed in the Line of Duty
Date of Death: May 21, 1918
Rank: Officer
Age: 35
Years of Service: 13
Marital Status: Single
Location of Death: 76 I Street, NE
Circumstance:
Officer Conrad was assisting Charles County Sheriff McParlan serve a Witness Summons on Herman Copeland of 76 I Street, NE.
Unbeknownst to the officers, Copeland was wanted for murder in South Carolina. Upon entering the house, Copeland shot Officer Conrad in the chest and the Sheriff in the neck, both died of their wounds
Copeland fled to 1400 Carrolssburg Place, SW to hide at his brother's house. Lieutenant Dunigan tracked the suspect to this location and found Copeland hiding under a bed. Copeland then shot Lieutenant Dunigan in the groin, causing death.
The suspect later surrendered after running out of bullets and having been shot four times.
biography:
Return to the list of officers killed in the line of duty.