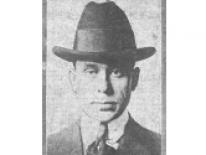 Officer Killed in the Line of Duty
Date of Death: July 21, 1919
Rank: Detective
Age: 29
Years of Service: Three
Marital Status: Married
Children: One
Location of Death: 220 G Street, NW
Circumstance:
During the 1919 Race Riots, Detectives Wilson and O'Brien responded to 220 G Street, NW, for a person shooting into a crowd from a window.
Sergeant Wilson and Detective O'Brien entered the house. As Sergeant Wilson reached the second floor, he was shot in the heart by a person hiding under a bed.
Detective O'Brien returned fire shooting the suspect in the hip. The suspect, a 17 year old female named Carrie Minor Johnson was arrested.
Sergeant Wilson died on the scene.
biography:
Return to the list of officers killed in the line of duty.