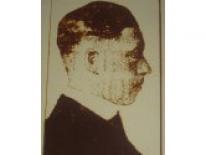 Officer Killed in the Line of Duty
Date of Death: October 20, 1921
Rank: Officer
Years of Service: Three
Marital Status: Single
Location of Death: 1148 Lingers Court, NW
Circumstance:
Officers Chinn and Collins responded to 1148 Lingers Court, NW for the sounds of gunfire. Upon arriving, officers found numerous individuals fighting over a craps game. As the officers approached, they were met with gunfire. Officer Chinn was shot in the side and disabled. Officer Collins continued up into the house and returned fire expending all his rounds. Officer Collins then returned to Officer Chinn and retrieved his gun and again entered the house and returned fire.
The suspect, George Scottage was later caught and confessed to the murder.
Officer Chinn died later in a hospital.
Return to the list of officers killed in the line of duty.