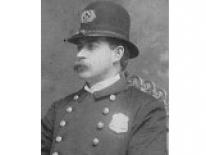 Officer Killed in the Line of Duty
Date of Death: December 29, 1871
Rank: Officer
Age: 38
Years of Service: Five
Marital Status: Married
Children: Three
Location of Death: 329 Maryland Avenue, SW
Circumstance:
Shot in the right chest while trying to wrestle a revolver away from Mrs. Shea, who lived at the house where officers were trying to execute a search warrant to recover a stolen watch.
Officer Doyle dies on the scene and Mrs. Shea was acquitted of murder, ruled an accidental shooting.
Officer Doyle was the first officer killed in the line of duty from the Metropolitan Police Department, since it's beginning in 1861.
Biography:
Return to the list of officers killed in the line of duty.