Monday, September 9, 2019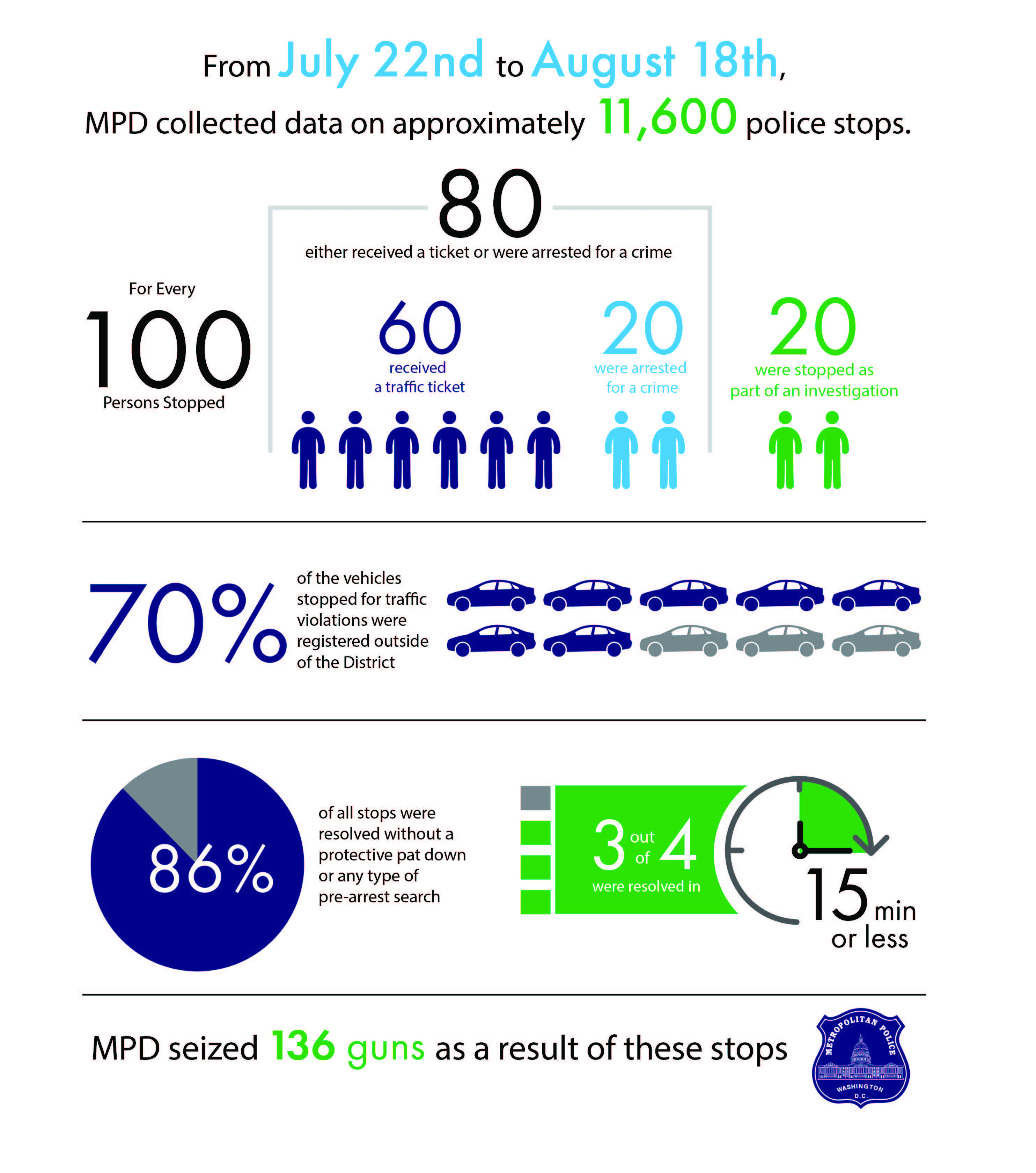 In July 2019, to enhance data collection as part of the NEAR Act, the Metropolitan Police Department (MPD) launched changes to police processes and data systems to allow the collection of more data in discrete fields and enable greater data analysis of police stops. Transparency around this information is critically important to public trust. This report represents just the first step in sharing the data and using it to improve policing in the District. MPD is committed to ensuring that each police stop meets its high standards for fair and constitutional policing and demonstrates respect for the individual stopped.
As you review this initial data, we ask readers to recognize there are limits to what questions can be answered with just this data set. For instance, this is based on just four weeks (July 22nd – August 18th), so it may not be a representative sample. In order to quickly provide a snapshot of the data to the public, this report is brief and only presents some of the data. We encourage members of the public to review and continue to analyze the data. Keeping this in mind, what does the initial data indicate?
The stops had a purpose and legal grounding.
Eighty percent of the stops resulted in immediate enforcement action: 60 percent ended with a traffic ticket and 20 percent in an arrest.
The stops included many people traveling in or through the District.
Only 30 percent of the vehicles stopped and issued tickets for traffic violations were registered in the District; 70 percent were registered in another state.
Most stops were resolved without any physical contact between the officer and the person stopped or his or her property.
Only 14 percent of stops involved a protective pat down (sometimes called a frisk) or a pre-arrest search of either a person or property.
MPD stops play a vital role in supporting Vision Zero and making our streets safe for all users.
Sixty percent of all stops result in a ticket, and 25 percent of arrests include a charge for a criminal traffic violation.
MPD stops can help remove guns from our neighborhoods.
Violent gun crime remains the city's most pressing public safety problem. MPD officers are able to remove a significant number of guns from DC streets as a result of these stops.
The stops were brief.
Three out of four were resolved in about 15 minutes. Ninety percent lasted less than 30 minutes.