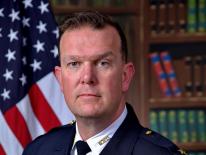 Michael Coligan serves as the Assistant Chief of the Professional Development Bureau (PDB). In this capacity, Coligan oversees the Metropolitan Police Department's Recruiting Division, Metropolitan Police Academy Division, Human Resource Management Division, Disciplinary Review Division, Testing and Assessment Division, EEO and the Medical Services Division.
Assistant Chief Coligan joined the Metropolitan Police Department on May 22, 2000, and began his career as a patrol officer in the First District following his training at the Metropolitan Police Academy. In December 2005, he was promoted to sergeant and assigned to the Third District. Four years later, in December 2009, Coligan was promoted to lieutenant and assigned to the Seventh District; he returned to 7D when he was promoted to captain in October 2014.
In addition to working and supervising in three different patrol areas in Washington, DC, Coligan has supported a variety of specialized units within the department, including the FBI Safe Streets Task Force (sergeant) and the Gun Recovery Unit (lieutenant). As lieutenant of the Gun Recovery Unit, Coligan managed the day-to-day operations of the unit, worked on strategic briefings, and coordinated investigations with federal agencies. Following his time as captain in the Seventh District, Coligan later served as captain of the School Safety Division. Before serving as commander in September 2018, he served as the Inspector of the School Safety Division. Coligan was named Acting Executive Director of PBD in July 2021 and he was promoted to Assistant Chief of the Bureau in April 2022.
Assistant Chief Coligan has received numerous awards throughout his career, such as Achievement and Service Medals and the PSA Officer of the Year. Additionally, while serving as Inspector of the School Safety Division, he was recognized as Inspector of the Year in both 2016 and 2017. Also, his assigned area for MPD's Summer Crime Initiative had the largest crime reduction rate for the summer of 2014.
Assistant Chief Coligan holds a Bachelor's of Science degree with a double major of Political Science and Justice Studies from Frostburg State University. He completed the FBI National Academy in 2019 and PERF Senior Management Institute for Police in 2021. He has also completed the National SRO (School Resource Officer) Supervisors and Management Course conducted by the National Association of School Resource Officers.