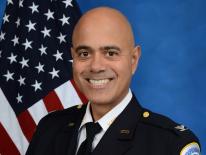 Guillermo Rivera was appointed by Chief Peter Newsham to the rank of Commander in April 2017 and currently heads the Special Operations Division (SOD) where he manages all special operations units. In this role, he oversees the Emergency Response Team, Explosive Ordnance Disposal Unit, Harbor Patrol, Canine Unit, Domestic Security Operations Unit, Motor Carrier Unit, Harbor Patrol Unit, Air Support Unit, Horse Mounted Unit, Canine Unit, Planning Unit, Special Events Unit, and the Traffic Safety and Specialized Enforcement Branch.
Commander Rivera began his career with MPD in 1992. After graduating from the Academy, he was assigned as an officer in the Fourth District until 1997 and then the Police Recruiting Unit. In 1999, he was promoted to sergeant and returned to the Fourth District. He was later assigned to the Internal Affairs Division where he investigated allegations of misconduct and corruption practices by members of the department.
Promoted to lieutenant in February 2007, he served as a Detective Lieutenant on the Force Investigations Team, leading investigations into Lethal and Less than Lethal Uses of Force and In-Custody Deaths by members of the department. After, he served as a lieutenant in the Narcotics and Special Investigations Division; Detective Lieutenant in the Criminal Investigations Division; PSA Lieutenant in Seventh District and administrative lieutenant in the Special Operations Division. In April of 2016, he was promoted to captain and managed the Marshall Heights Area during the 2016 Summer Crime Initiative and also worked in the Professional Development Bureau. He was named Captain of the Year in 2016.