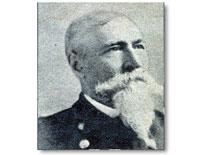 Major and Superintendent (December 1896 - July 1898)
On December 8, 1886, Colonel William G. Moore was appointed as the Major and Superintendent of the Police Department. A native of Washington, he began his early career as a newspaper man covering congressional debates. He then went on to serve in the department of Public Works under General Montgomery Meigs. He served there up until the outbreak of the Civil War and joined the National Rifles.

After short service there he was requested to serves as the private secretary to the Secretary of War. He was then promoted to the rank of Major and made Adjutant-General of Volunteers. Following the conclusion of the war Major Moore was appointed to the position of private secretary to President Andrew Johnson.

He was then commissioned as a Colonel and made a paymaster in the army, and subsequently traveled the southwest as he carried out his duties.

In 1870 he returned to Washington and was made commander of the Washington Light Infantry, and then became Colonel of the First Regiment of the District Militia.

Once appointed Superintendent Moore was one of the longest serving Superintendents in the department's history and was responsible for preparing the force for its entry into the Modern era. Superintendent Moore improved the efficiency of the force and presided over the creation of many of the institutions and laws that still exist today.

Through Superintendent Moore's innovative leadership the Metropolitan Police Department took great strides forward. Superintendent Moore was authorized to make police regulations for the inspection of junk dealers, pawnbrokers, and second hand dealers. He ensured that street lighting was adequate and that rail crossings were manned to prevent accident. Superintendent Moore helped guide the regulation of hacks, dogs, traffic, pool halls and the abatement of nuisances. He oversaw the creation of a new police court and enhanced enforcement against the seemingly increase in vice that gripped the city. From Opium dens in Chinatown, to gambling, prostitution and liquor, Major Moore augmented the Police Department's ability to combat crime and disorder.

Superintendent Moore further progressed the Department by adding a steam boat to patrol the river, bicycles for officer to patrol the streets and by establishing a Ninth Precinct in Northeast. He also initiated the first civil-service exams to be administered to Privates in order for them to be considered for promotion to the rank of Sergeant. Superintendent Moore also saw that officers were censured for "using their batons too freely" as he brought the force under more rigid control.

It was under Superintendent Moore's stewardship in 1893, that the Metropolitan Police made 27, 245 arrests. This number far exceeds our yearly numbers in present history.

Superintendent Moore died in office in July 1898 following a brief illness. He was credited with ushering in a new era in policing.