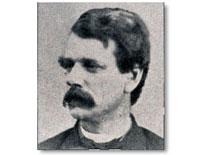 William B. Webb was born on September 17, 1825, in Washington, DC. He attended private schools here and in Baltimore County, and, in 1840 enrolled in the Columbia College in Washington, and graduated in 1844, with a Bachelor of Arts degree. He went on to earn his Master of Arts degree in 1847 from what was then referred to as the Columbian University, which has since been renamed Columbia College. He went on to study law and was admitted to the Bar of the District of Columbia in 1847.
Webb worked as a lawyer and was married in 1954, but at the beginning of the Civil War he was commissioned as a Captain of a local militia, but then given a Majors commission at the commencement of hostilities. Since he was trained in how to drill men and manage emergency situations and being a life-long Washingtonian, Major Webb was unanimously selected by the board of Police Commissioners to be the Metropolitan Police Department's first "Major and Superintendent."
Superintendent Webb moved to organize the department and put into place the systems that would see the fledgling department through some of it most difficult times. Superintendent Webb presided for two years from 1861 through 1863, while the District of Columbia was a fortified encampment of hundreds of thousands of union troops. Many of whom sat idle and caused many problems for the police department in terms of maintaining order. It was during his early tenure, that the image of the not yet completed capitol building was chosen for the Officer Shield (Badge)
Superintendent Webb resigned and returned to private life, but was called into his city's service again and wrote numerous laws and ordinances that were necessary in to the maintenance of the rapidly growing city. He received a Doctor of Laws degree from the National University, and in 1893 was the director of the Washington Gas-light Company.