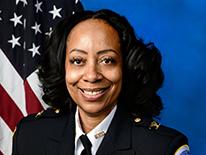 Commander Kimberly Dickerson currently serves as commander of the Human Resource Management Division, which hires, manages, and retains a qualified and diverse workforce, which includes recruitment efforts for new police officers. She was promoted to commander by Police Chief Robert Contee, III, on January 19, 2023.
Commander Dickerson joined the Metropolitan Police Department in October 1998, serving in both patrol and investigative positions as she progressed through the ranks. Following graduation from the Academy, she was assigned to the Third District. In 2007, Dickerson was promoted to sergeant and was assigned to the First District. She was promoted to lieutenant in 2010 and moved to the Fourth District where she built a strong relationship with the community, particularly Patrol Services Area (PSA) 402, known as the Brightwood Neighborhood. In 2012 she moved to the Youth and Family Services Division (YFSD) serving as lieutenant where she enjoyed working with the youth outreach programs. Dickerson was promoted to captain in 2014 and moved to the Second District where she served as Assistant District Commander. In 2015, she moved to the Criminal Investigations Division (CID) serving as captain of the Special Investigations Branch (SIB).
As an accomplished leader with expertise in a wide array of law enforcement assignments, Dickerson was promoted to Inspector in September 2016 and served as Director of Internal Affairs Division where she was responsible for all internal investigations involving serious uses of force and criminal/administrative misconduct. In March 2019 she became the Director of Risk Management Division. In May 2021, she became the Deputy Director of the Human Resource Management Division. In January 2023 she assumed her current position as Commander of the Human Resource Management Division. Commander Dickerson has received numerous commendations throughout her career. Most notably, she was named "Captain of the Year" in 2014 and "Inspector of the Year" in 2019.
Commander Kimberly Dickerson earned a Bachelor of Science Degree in marketing/management from Morgan State University in 1995 and matriculated at Bowie State University pursing a master's degree in counseling psychology.