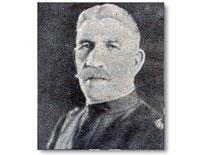 Major and Superintendent (February 1922 - October 1925)
Superintendent Sullivan was an Irish émigré who served in the United States Marine Corps. He joined the Metropolitan Police Department in 1889 as a Private and rose through the ranks quickly as he attained the rank of Captain by 1906. By 1922, following a successful stint as the commander of the politically important Third Precinct, Inspector Sullivan became Assistant Superintendent Sullivan. A relatively new rank added to the structure of the department. He was third man to rise though the ranks and go on to become Major and Superintendent of the Police Department. The rank now commonly referred to as Chief of police.

Superintendent Sullivan's administrations was marked by several important changes, not the least of which was abandoning the system of watches and rotation and beginning a straight eight hours shift, with no reserve, and one day off a week. He was also an advocate for better pay for his men which he believed were not paid well enough for the extraordinary services they performed.

Superintendent Sullivan's personality and demeanor won him great favor with the rank and file officers and resulted in spirit of cooperation that allowed the department to work more harmoniously.
Though there was still no former training in police work, Superintendent Sullivan continued the practice of having groups of twenty officers attend a two week class that taught laws of arrest, search and seizure and court procedures.

The requirements of the enforcement of the DC Sheppard Law and the Volstead Act during this era of prohibition occupied a good deal of the Police Department's time, and created new laws with regard to using smoke screens as a way to elude pursuing police.

Superintendent Sullivan supervised a force of 968 men and women, with 112 of them on permanent posts throughout the city. He made a point in his annual report of 1925 to the Police Commissioners that the unique nature of Washington, D.C. and its position as the Nation's Capitol creates a greater burden on his already taxed police force.

After serving just three years as Major and Superintendent he retired in poor health and three weeks later Superintendent Sullivan dies at his home as a result of an undisclosed disease. He was immediately succeeded by Edwin B. Hesse.