Every resident lives in a Police Service Area (PSA), and every PSA has a team of police officers and officials assigned to it. Residents should get to know their PSA team members and learn how to work with them to fight crime and disorder in their neighborhoods. Each police district has between seven and nine PSAs. There are a total of 56 PSAs in the District of Columbia.
Printable PDF versions of each district map are available on the district pages. Residents and visitors may also access the PSA Finder to easily locate a PSA and other resources within a geographic area. Just enter an address or place name in the "Find It!" field and the search will provide the geopolitical and public safety information for the address; it will also display a map of the nearest police station(s).
Download maps of MPD's Police Districts and PSAs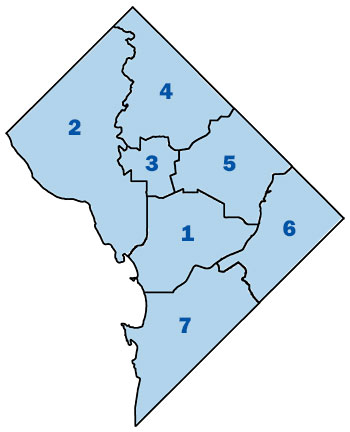 Use the links below for more information on that district.
NOTE: The police district and PSA boundaries changed on January 1, 2012.
Join an MPD Email Discussion Group
The online email list discussion groups are designed to attract area residents, employees, students, business owners, elected officials, and government agency representatives interested in coming together to solve problems and share public safety-related information that will improve the quality of life in each police district. Find out how to
sign up for an email group
from your district.