Memorial to Bernis Carr Jr.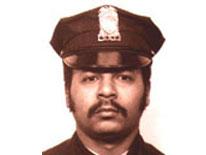 Officer Killed in the Line of Duty
Date of Death: February 16, 1978
Rank: Officer
Age: 31
Years of Service: 11
Marital Status: Married
Location of Death: 4801 Georgia Avenue, NW
Circumstance:
Officer Carr was off duty and seated at the bar of Jimi's Lounge at 4801 Georgia Avenue NW, when the four suspects entered the restaurant with guns. The suspects emptied the cash register and proceeded to rob the patrons, when they discovered Officer Carr's empty holster. Officer Carr had prepared himself for a shootout by concealing his weapon. He began shooting but was outnumbered. He was killed by shots to the head and chest.
Return to the list of officers killed in the line of duty.