Fun and Safe for Kids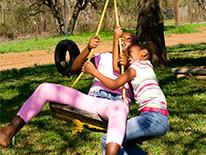 The Metropolitan Police Department takes safety for everyone seriously. Children need guidance and access to relevant and age-appropriate information throughout their development. The following resources are offered as a brief introduction to the many products and services available to help educate your child about a variety of topics — from issues like cyberbullying to getting to school safely to drug awareness and fire safety. We are working to develop additional materials and more features in the near future, including interactive activities, puzzles, and more. If you have a resource or idea that you would like to see included here, please contact us.
Staying Safe Online
FBI-SOS (Safe Online Surfing) Internet Challenge
The site features six grade-specific "islands" — for third- through eighth-grade students — highlighting various aspects of cyber security through games, videos, and other interactive features. Each island has either seven or eight areas to explore — with a specific cyber safety lesson — and its own central character and visual theme. For example, fourth grade features Ice Island, complete with falling snow and penguins.
NetSmartzKids
A program of the National Center for Missing and Exploited Children, this interactive site features games, videos, puzzles, and helpful information to keep younger children safe when online. Narrated by Clicky (an animated robot), the site is geared to children ages 5-17, with a focus on the web's youngest audience. The companion website for parents provides helpful information and resources on a range of topics, including sexting, online meetings, safe posting, social media and more.
StaySafeOnline.org
The National Cybersecurity Alliance works to empower society to use the Internet safely and securely no matter where they connect. Their site includes a section for teachers and parents that includes lesson plans and materials on cybersecurity, cybersafety, and cyberethics.
i Keep Safe
The Internet Safety Coalition's site provides a wealth of information on protecting children online, for parents, educators, and others charged with helping keep kids safe online. For younger audiences, Faux Paw the Techno Cat talks to kids about cyberbullying, download safety, online gaming, and more.
Drug Awareness and Prevention
NIDA for Teens
The National Institute on Drug Abuse, part of the National Institutes of Health, put together this website to discuss prescription drug safety, the effects that illicit drugs can have on the body, the science behind addiction, and much more. The Sara Bellum blog — a play on the word cerebellum, which is the part of the brain that controls motor movement coordination, balance, and equilibrium — is written by NIDA scientists and seeks to answer the tough questions about drug addiction and experimentation. For instance, one recent post deals with why taking a friend's ADHD medication (or any prescription medication not prescribed for you) is a bad idea.
D.A.R.E.
The Drug Abuse Resistance Education program, founded in Los Angeles in 1983, provides training and education to law enforcement agencies across the country to help spread the message to "say no to drugs" to schoolchildren. D.A.R.E. is a police officer-led series of classroom lessons that teaches children from kindergarten through 12th grade how to resist peer pressure and live productive drug and violence-free lives.
Drug Abuse and Vice Initiatives
MPD's efforts to address the drug trade in communities across the city and to educate residents about the signs of illegal drug activity yielded this mini-site in partnership with some of the Department's most experienced vice officers. The section includes pages on the identification and risks associated with common street drugs, drug trends in our neighborhoods, how we're addressing the problem, and what you can do to help. A coloring book put together by the Narcotics and Special Investigations Division teaches kids about what police do in our communities and what to do in certain dangerous situations.
School and Neighborhood Safety
Sharing Information with Police
Give 5-0 the 4-1-1. Good police work relies on good information from all kinds of sources to help solve a case. Oftentimes, the only person who might know something about a crime is a person who witnessed it when they were walking down the street, overheard it in the cafeteria, or saw it on their friend's social media sites. Because crime can't be solved by police alone, we need your help to tell us when you know something about a crime or incident that happened in your neighborhood. Here are some situations where your information can help prevent violence or help police determine who is responsible:

If you've heard about a beef between two rival groups that might end in violence, do the right thing and let police know.
If you know someone who has a gun or knife and is planning to use the weapon against another person, tell police.
If you see people who seem out of place, looking or acting suspicious, making you feel uneasy, give us a call at (202) 727-9099 or text your information to 50-411.
If you know about people dealing drugs in your neighborhood, tell police.
If a stranger approaches you while you are walking to or from school, tell your parents, guardian, teacher, or other trusted adult and be sure to have them contact police immediately.

You can remain anonymous -- you don't have to leave your name or phone number, but doing so can help police ask further questions and get additional information that might lead to the person responsible being caught.
Your tip could even prevent someone from being a victim of a crime or an unnecessary fight from becoming more serious.
Your information may even be eligible for a reward.