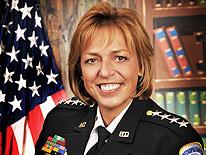 The cornerstone of Metropolitan Police Department Chief of Police Cathy L. Lanier's leadership lies in her commitment to reducing violent crimes through the strong relationships she has fostered with partners in community as well as those within the criminal justice system. A key to this success was convincing all partners that we could prevent the next homicide through immediate and coordinated action. Strengthened police-community ties have opened avenues of communications, giving victims and witnesses the courage to share valuable information that helps the MPD capture criminals.

Various modes of communication have also expanded under Lanier's direction. The Metropolitan Police Department has increased its use of social media to include tools like Facebook, Twitter, YouTube, and Pinterest. The Department also accepts anonymous text tips to help solve crimes. Since 2008, the first year we deployed the text tip line, the number of tips submitted by community members has increased by nearly 600 percent. Through the MPD's reward program, concerned community members have been recognized for the contributions they made in reducing violent crimes in the District of Columbia. Between 2008 and 2012, the MPD distributed over $2.4 million in rewards for information that led to the arrest and conviction of violent criminals.

These valuable partnerships have played a key role in the significant decrease in the number of homicides in District of Columbia as well as the outstanding homicide closure rate during Lanier's tenure as Chief of Police. From 2008 to 2012, the city experienced a 53 percent reduction in homicides, ending the year of 2012 with a total not seen since 1961. MPD's homicide case closure rate was 95 percent in 2011 and 82 percent in 2012, compared to the national average of 57 percent. Additionally, from 2008 to 2012, homicides by gun decreased by 64 percent. During the same time frame, juveniles committing homicide decreased 63 percent, and juvenile victims of homicide decreased 85 percent.

Lanier has spent her entire law enforcement career with the Metropolitan Police Department, beginning in 1990. Much of her career has been in uniformed patrol, where she served as Commander of the Fourth District, one of the largest and most diverse residential patrol districts in the city. She also served as the Commanding Officer of the Department's Major Narcotics Branch and Vehicular Homicide Units.

Chief Lanier was named Commander of the Special Operations Division (SOD), where, for four years, she managed the Emergency Response Team, Aviation and Harbor Units, Horse Mounted and Canine Units, Special Events/Dignitary Protection Branch, and Civil Disturbance Units. During her tenure as SOD Commander, she established the agency's first Homeland Security/Counter-Terrorism Branch and created an agency-wide chemical, biological, radiological response unit known as the Special Threat Action Team.

In 2006, the MPD's Office of Homeland Security and Counter-Terrorism (OHSCT) was created, and Chief Lanier was tapped to be its first Commanding Officer. A highly respected professional in the areas of homeland security and community policing, she took the lead role in developing and implementing coordinated counter-terrorism strategies for all units within the MPD and launched Operation TIPP (Terrorist Incident Prevention Program).

After assuming leadership of the Metropolitan Police Department on January 2, 2007, Cathy L. Lanier was unanimously confirmed as the Chief of Police by the Council of the District of Columbia on April 3, 2007.

Chief Lanier is a graduate of the FBI National Academy and the federal Drug Enforcement Administration's Drug Unit Commanders Academy. She holds Bachelor's and Master's Degrees in Management from Johns Hopkins University, and a Master's Degree in National Security Studies from the Naval Postgraduate School in Monterey, California. She is certified at the technician level in Hazardous Materials Operations.