Detectives from the Metropolitan Police Department are seeking the public's assistance in identifying a suspect wanted in connection with two Bank Robbery incidents that occurred at the following:
Bank Robbery: 4300 block of 49th Street, Northwest (Bank of America), on Monday, May 23, 2016, at approximately 11:04 am, a subject entered the bank, approached the teller, and demanded money verbally and via a note. The teller complied and the subject then fled the bank on foot.

The subject, pictured below, is described as a black female, 5'5" in height, dark complexion, with a medium build in her 20s with shoulder length, twisted black hair. She was described as wearing a black sport coat over a white collar shirt, black pants, and carrying a black and gray backpack.
Attempt Bank Robbery: 5200 block of MacArthur Boulevard, Northwest (Wells Fargo Bank), on Friday, May 27, 2016, at approximately 11:23 am, a subject presented a demand note to a bank employee. The bank employee questioned the subject. The subject left the bank without obtaining any money belonging to the bank.

The suspect is described as a black female, 5'7-8", 20-30 years of age, medium to dark brown complexion, medium build, wearing a black straight wig with bangs over the forehead, black framed oval shaped sunglasses, a button down greenish yellow dress, and carrying a beige colored purse with braided straps.
The suspect is pictured below: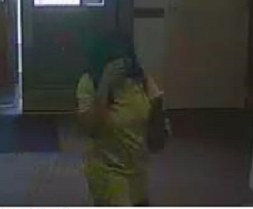 Anyone who has information regarding this case should call police at 202-727-9099. Additionally, information may be submitted to the TEXT TIP LINE by text messaging 50411. The Metropolitan Police Department currently offers a reward of up to $5,000 to anyone who provides information that leads to the arrest and conviction of the person or persons responsible for a Bank Robbery committed in the District of Columbia.