The Metropolitan Police Department is seeking the public's assistance in locating two persons of interest who are being sought in connection with the stabbing of five victims at McFadden Night Club located in the 2400 block of Pennsylvania Avenue NW. The offense occurred on Saturday, December 27, 2014, at approximately 12:37 am.
The descriptions of the subjects are as follows.
Subject one: pictured below is a black male, approximately 28 years-old, approximately 5-feet-11-inches tall, with a slim build, medium complexion, and goatee. He was wearing a mid-length coat with a belt, a hat or hood.
Subject two: pictured below is a black male, approximately 25 to 30 years-old, 5-feet-8-inches to 5-feet-10-inches tall, with a medium build and medium complexion. He was wearing a white shirt, dark jacket with a faux fur collar and trim, and light colored jeans.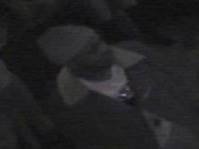 Anyone with information about this case is asked to call the police at (202) 727-9099. Additionally, anonymous information may be submitted to the department's TEXT TIP LINE by text messaging 50411. The Metropolitan Police Department currently offers a reward of up to $1,000 to anyone that provides information which leads to the arrest and conviction of the person or persons wanted for any assault committed in the District of Columbia.