The Metropolitan Police Department's Youth and Family Services Division seeks the public's assistance in identifying and locating two persons of interest, and a vehicle of interest in connection with an incident that occurred in the 3900 block of Argyle Terrace, Northwest.
On Monday, April 18, 2016, at approximately 7:00 pm, two subjects approached a female child in a white vehicle. The driver of the vehicle offered the child candy, and attempted to lure the child into the vehicle.
The vehicle of interest is described as being either a white sedan or a small white SUV.
One of the subjects is described as a White or Hispanic male, approximately 70-years-old, with grey short hair, green eyes, and a tattoo in the shape of a beetle on the back of his neck. The other subject is described as a White or Hispanic male, approximately 60-years-old, with white hair and a nose ring. Both individuals are described as having an accent.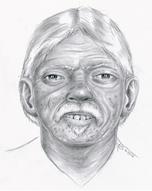 Subject 1 Subject 2
(Tattoo on back of Sub. 1's neck resembling above drawing)
Anyone who has information regarding this case should call police at 202-727-9099. Additionally, information may be submitted to the TEXT TIP LINE by text messaging 50411.
###