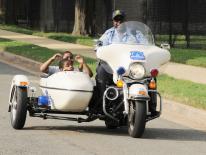 Work-life balance involves your sense of control over the number of hours that you devote to work versus the number of hours available to you as personal time to devote to yourself, your family, and leisure activities. It is accomplished when you feel satisfied both with your job and your personal life.
Policing is an extremely demanding profession and you will not always have a choice about the number of extra hours that you have to work. Chief Lanier recognizes, however, that police officers, supervisors, and managers need to maintain a healthy mix between their professional and personal lives.
First, be sure that policing is right for you because working for MPD will be very much a part of your life. Once you join MPD, you will define yourself as a police officer and the perspective of your friends and family will change. In most instances, you will find that your friends and family are very proud of your new career. Making sure that you have made the right choice to become a police officer and finding fulfillment in that job is critically important to removing possible causes of stress.
Just as important are your working conditions, such as whether you like your immediate boss or supervisor, and have some discretion and control over the way you perform your job. That is why Chief Lanier is committed to ensuring that supervisors and managers are devoted to correcting and improving performance, rather than disciplining in an arbitrary manner or with a heavy hand.
In policing, police officers have a great deal of discretion in the way that they police, such as deciding whether to issue a verbal warning versus a written ticket or to take a youth who has violated curfew back home to his parents versus a detention center, so long as they adhere to MPD's professional standards. Having so much personal power and some control over how they spend their day are two reasons that many police officers find the job satisfying. Another important motivator is the way that doing the job well can make you feel—that you made a difference in someone's life for the better that day.
Chief Lanier is committed to giving employees the tools they need to strike the right work-life balance. Most of these measures are aimed at helping MPD employees stay mentally and physically healthy through stress reduction and wellness programs, and they include:
Access to free and effective counseling for sworn members through the Metropolitan Police Department's Employee Assistance Program that is funded jointly by the Department and the union and for civilian members through the District Government's COPE program that is also free.
Access to on-site workout facilities — all of the patrol districts and many of the specialized units, including the Academy, have gyms available for MPD employees to work out on their own time either before or after their regular shifts or work hours.
Access to quality health care — all MPD employees can elect comprehensive health insurance coverage. In addition, uniformed employees who become hurt or ill on the job have access to some of the best emergency medical, clinical, and rehabilitation care in the country through the consortium of hospitals that make up PFC Associates, Inc., that include Providence Hospital, MedSTAR, the Washington Hospital Center, and the National Rehabilitation Hospital, as well as the Police and Fire Clinic.
Access to wellness programs — the MPD contract with PFC Associates funds nutrition and smoking cessation classes, as well as preventive health care programs including free flu and TB shots, that are free to MPD uniformed employees.
Exploring alternative work schedules — currently MPD is planning a pilot project trying out a compressed work schedule for patrol officers of 4 10-hours shifts a week.
Elimination of rotating shift schedules — MPD officers are assigned to fixed or permanent shifts based upon research that switching shifts every 2 weeks is unhealthy for people because they never have time to adjust to the changing shifts and lose sleep.
Generous annual leave, compensatory-time off, Family and Medical Leave Act (FMLA), and sick leave benefits that allow employees to take time off needed as vacation time, to care for newborns, a sick family member or to recover from a personal injury or illness.