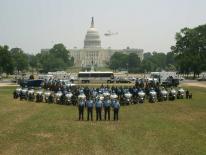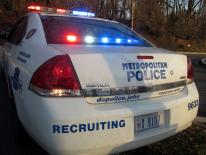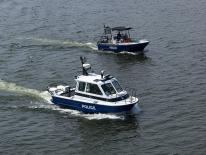 Our Chief of Police, Cathy L. Lanier, has established five guiding principles to help make her vision a reality: to position MPD as an agency viewed and respected locally, nationally, and internationally as a model for how it serves the community.
She and her team are committed to changing the culture of the MPD from reacting to crime to planning and deploying departmental resources based upon solid and timely crime analysis forecasts. Through patrol district specific crime briefings, customized community policing plans are developed with specific goals set to reduce crime and the fear of crime in the community.
Encouraging teamwork and leadership at every level of the police department and throughout the community is another guiding principle for Chief Lanier. She is intent on emphasizing that every MPD employee has the power to influence positive change — and encouraging them to improve the service they provide to both the department and the community. Outstanding work by patrol officers, investigators, specialized and support personnel is quickly recognized and rewarded. The Chief Concerns program allows MPD employees to send their recommendations and suggestions by email to Chief Lanier directly with a response usually within 24 hours published in the Department's daily newsletter, "The Dispatch." Moreover, Chief Lanier has continually reached out to meet with MPD employees at roll calls, in groups, and by unit to ensure that lines of communication are open.
Chief Lanier is focusing the entire Department on engaging youth, an investment which will have an impact on these young people now and on the entire city in the future. Finally, recognizing that MPD is already one of the finest police departments in the nation, Chief Lanier is committed to building on what MPD is doing right and providing patrol personnel with state-of-the-art technological tools to deliver even better service more efficiently to the citizens MPD serves in the nation's capital. With her plans now set in motion, now more than ever we can say, "It's a great time to be MPD!"
Top Five Reasons to Work for MPD
A chance to play a proud part in historic events — The District of Columbia is the nation's capital and policing its business districts, neighborhoods, and parks presents unique opportunities in law enforcement, from handling national demonstrations and protests peacefully to Presidential movements to protecting the lives and property of dignitaries and ordinary citizens alike.
Mayor Vincent Gray and Chief Lanier have a progressive vision for the city and you will have a chance to help make that vision for the future a reality for the District of Columbia — a city growing, thriving, and becoming safer every day.
Making a difference — You will have the opportunity to share your great sense of values by setting an example for young people and intervening in their lives in a positive manner. Your professionalism will be rewarded many times over in the way you feel about yourself, the way the community perceives you with respect, and the way that you can speak about your job to your family with pride.
A chance to be on the cutting edge of police work — Chief Lanier's progressive intelligence-led policing program emphasizes community policing strategies that are customized to fit individual neighborhood and business needs and her leadership style fosters employee participation and innovation.
Be part of building homeland security and emergency preparedness into the culture of MPD and the community without creating fear, by partnering with government agencies, the private sector, and the community to enhance awareness of emergency preparedness and terrorist activities.