The most important thing you can do as a resident is to share information and report suspicious activity.


Giving Tips to Police
Sharing what you see in your community is a civic responsibility. The police can't identify and arrest drug dealers without your help. We need your assistance in being the eyes and ears of your community. Your tip could be valuable in making a case, identifying drug drops, lookouts, or other critical elements in the drug dealer's sphere of influence.
You can share your information anonymously by calling (888) 919-2746 (CRIME) or texting to 50411. If you need police response immediately, call 911.
Information you share may also be eligible for a cash reward for certain types of crimes.
Learn more about the anonymous crime tip lines.
What to Look For
Continuous, unexplained traffic at the residence throughout the day and night
Locations of drug dealing often become central gathering spots for users and dealers, which may result in additional criminal activity that would not otherwise be present
Some businesses are dependent on foot traffic from drug dealing to survive, but not taking steps to remove the presence of drug dealers can lead to greater problems for the whole community. Legitimate businesses will want to cooperate to help remove the threat that drug dealing presents to the neighborhood.
Abandoned automobiles, houses, and other places can be signals that a community is being targeted or tested by drug traffickers.
Vandalism and graffiti let dealers know that no one is paying attention.
Excessive trash helps dealers find places to hide stashes and paraphernalia.
Non-working streetlights provide dark spots for criminals to operate.

Who to Call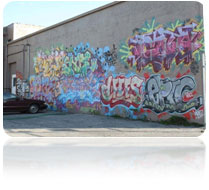 If you notice any of these problems in your community, call 311 to request city services.
If there is an imminent threat or need for police presence, call 9-1.

Remember, if it looks like people don't care about the neighborhood, criminal activity will rise.