May 2006
Submitted by Marsha Hott
In June 2005, the Metropolitan Police Department, in partnership with the DC Office on Aging, launched a Senior Citizens Police Academy, a program of the Citizens Partnership Institute, of the Policing for Prevention Division. The program, to be held annually, ran for twelve weeks and was intended to provide seniors with tools, resources and information that can help them avoid being victims of crime themselves, while also allowing them to get more actively involved in the Police Department's Policing for Prevention strategy of community policing.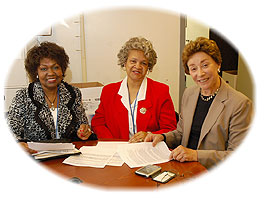 Thirty-four seniors graduated from the program and many have gone on to make a difference in their local communities, to contribute to the Department as volunteers and to contribute to the overall well being of seniors in the city.
From left to right, Elsie Taylor,
Mary Sanford and Suzanne Legault

Over twenty-five of the graduates went on to form an alumni association that has recently created by-laws and an organizational structure. Interim president coordinated research in developing the basic structure of the Association. Subsequently, President Elsie Taylor (1st District), Vice-President Mary Sanford (4th), Secretary Suzanne Legault (3rd) and Treasurer Frances Prophet (5th) refined by-laws, set program goals and fund-raising initiatives, as well as sketched plans for communication via a monthly news bulletin. The primary goal of the Association is to support the Department's Policing for Prevention strategies and to promote the general well-being of seniors in the District.

Graduates of the SCPA also support the Department through its police auxiliary (volunteers) program. Edra Derricks finds her work with children in the Third District very fulfilling. Others like Marie King, Beatrice Fuller and Frances Prophet assist with various office duties in the districts and at headquarters. Currently, ten seniors serve as volunteers for the MPD.

Alethea Campbell, Chi Ching Pei and Angelsio Tugado have found a way to take the information to seniors in their own communities. Alethea made a commitment to hold four events annually for Ward 8 seniors. With the support of the Alumni Association and the assistance of MPD's community outreach coordinator Lendia Johnson, Ms. Campbell held her first event for seniors in March. Over 65 seniors came to the Wellness Center to learn about Identify Theft, a concern of many seniors in the District. Mary Sanford held meetings in the Fourth District to address similar types of issues.

The MPD applauds our seniors and the contributions they are making to the Department and the District of Columbia.