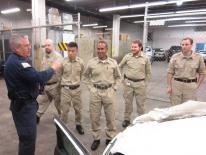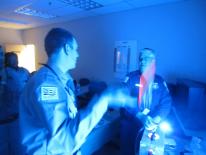 Applicants selected as reserve recruit officers undergo a comprehensive training program, commensurate with career police officer training standards, with the Metropolitan Police Department. Reserve recruits undergo an approximately 6-month police academy conducted every Tuesday and Thursday from 6:30 - 10:30 pm and on Saturdays from 8:00 am - 4:30 pm weekly (with the first Saturday of each month off).
Additionally recruits go through a 10 day firearms training and proficiency course which may be outside the Tuesday/Thursday/Saturday routine. This course is mandatory for all recruits. Training to become a Reserve Police Officer requires a significant time commitment when factoring both class and study time and can be considered similar to pursuing a part-time higher education degree!
During the training academy reserve recruit officers learn many subject materials to include the following topics:
Defensive tactics
Suspicious Activity Reports (SARs).
Intelligence, counter-terrorism and gangs
Vehicle skills training course
Mental illness
Diversity training
Crime scene control and processing
Traffic regulation and traffic control
Criminal investigations
Laws of arrest, search and seizure
DC Criminal Code
Firearms training

APPLY TODAY by clicking here to submit an interest card. Your interest card will allow you to learn more and begin the application process.