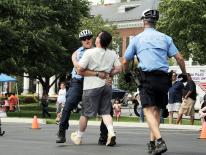 Minimum Requirements
MPD is a force composed of the city's finest. To qualify for the position of Reserve Police Officer, you must:
Be a US citizen at the time of application
Be 21 years of age (mandatory separation by 64 years of age)
Meet at least one of the following criteria:

Successful completion of at least sixty (60) semester-hour credits or the semester-hour equivalent from an an accredited post-secondary educational institution; or
Have served in the Armed Forces of the United States, including the Organized Reserves and National Guard, for at least two (2) years on active duty and, if separated from the military, have received an honorable discharge; or
Have served at least three (3) years in a full-duty status with a full-service police department in a municipality or a state within the United States, and have resigned or retired in good standing.

Possess a valid driver's license that is not under suspension or revocation from the jurisdiction of residence
Possess at least 20/100 vision, correctable to 20/30 in both eyes
Pass the sworn officer written entrance test
Pass a physical ability test

Submit to a polygraph examination
Pass a medical examination and psychological examination, including a drug-screening test, based upon sworn officer standards.
Possess a high moral character for carrying out law enforcement duties

APPLY TODAY by clicking here to submit an interest card. Your interest card will allow you to learn more and begin the application process.