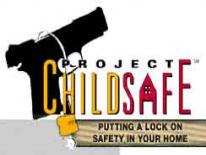 Registered firearms owners in the District of Columbia can now receive free gun locks from the Metropolitan Police Department, under a national program designed to raise awareness of firearms safety and the responsible storage of weapons.
The National Shooting Sports Foundation has partnered with the MPD to distribute 9,400 free gun locks in Washington, DC, as part of the national Project ChildSafe initiative. Project ChildSafe is funded by a $50 million grant from the US Department of Justice and is administered nationally by the NSSF, a trade association for the firearms and recreational shooting sports industry. The program will provide nearly 20 million free gun locks and firearms safety educational materials to individuals and families in all 50 states, the five US territories and the District of Columbia.
In DC, the free gun locks will be distributed by the MPD's Firearms Registration Section, which is located in Police Headquarters, 300 Indiana Avenue, NW. DC residents who come to register rifles, shotguns and other permitted firearms will be given a free gun lock at the time of registration. In addition, residents who have previously registered a firearm may visit the Firearms Registration Section to receive a free gun lock; gun owners should bring proof of registration.
For more information about Project ChildSafe in DC, contact the MPD's Firearms Registration Section at (202) 727-4275 or visit their website at www.projectchildsafe.org.