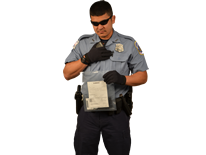 Meet the Member: I joined the department in January of 2007 after working several years in armed security and the banking industry. I was inspired at a young age to become a police officer when I attended my older half-brother's graduation ceremony from the Police Academy for Prince George's County Sheriff's Department. When an opportunity to join MPD presented itself I jumped on it. I have worked in patrol, on foot beat, in a plainclothes unit, and on a Full Stride beat. I currently work in Chinatown which is a dynamic area that is popular with tourists, sports and entertainment fans. I enjoy working this beat because I get to meet people from all over the world.
About the Unit: Patrol officers are the backbone of the police department, responding to a wide variety of calls for service to render aid and protect the people in the communities they serve. Patrol members - often the first responders to a call for help - are assigned to one of 55 Police Service Areas within the seven police districts. Officers get to know their beats and the people who live and work in them, typically working with a partner. While most patrol members use marked police cruisers, others make use of bicycles, Segways, or motor scooters. Some even patrol their beats on foot as a part of a "Full Stride" unit.
Get Involved: Joining the Metropolitan Police Department as an Entry-Level Patrol Officer is the first step at launching your exciting career in law enforcement. The Metropolitan Police Department is actively recruiting and hiring officers to fill monthly new recruit officer classes. The Department offers a wide variety of benefits, including tuition reimbursement for continuing education, and offers a competitive starting salary of $48,715. To apply click here.