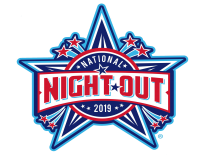 Thanks for celebrating National Night Out 2019 with the MPD. We look forward to doing it again next year!
Tuesday, August 4, 2020, the Metropolitan Police Department will invite DC residents to join our officers and other community leaders to celebrate the 37th Annual National Night Out (NNO). This police awareness-raising national event is to introduce communities to local law enforcement, and to highlight crime prevention, neighborhood watch programs, and other safety-related issues.
MPD has schedules events across our seven police districts during the late afternoon and evening hours. Activities include community cookouts, open houses, block parties, candlelight vigils, athletic tournaments, and more.
National Night Out is designed to:
Heighten crime and drug prevention awareness;
Generate support for, and participation in, local anticrime programs;
Strengthen neighborhood spirit and police-community partnerships; and
Send a message to criminals letting them know that neighborhoods are organized and fighting back.
If you have any questions or want more information about any National Night Out events, please contact the Community Outreach Supervisor, Evelyn Lopez, at (202) 724-9542 or [email protected].
The request period to have a table at National Night Out is now closed.