The Metropolitan Police Department (MPD) takes pride in professionally responding to crisis situations, and we will continue to do so throughout the current public health emergency. This is a constantly evolving situation that requires MPD to do our part to limit exposure without interrupting the high level of service provided to our community. It is necessary that MPD maintains a healthy workforce so that we may continue providing emergency services when called upon. We have identified certain operational measures that can be temporarily modified for the community and our members.
It is important to note that MPD facilities remain open at this time, but to mitigate potential exposure to and spread of the coronavirus (COVID-19), operational adjustments have been implemented and will continue to expand as required. Additionally, if calling for police services and you are experiencing flu-like or COVID-19 symptoms, including fever, cough, and shortness of breath, callers should notify the dispatcher so first responders may take appropriate safety precautions upon their arrival.
The following operational adjustments are in place at MPD:
Calls for Service
During calls for service and interactions, officers will ask to speak with complainants outdoors when possible. We will try to maintain a distance that is consistent with public health official recommendations and ask for the public's cooperation.
Following the DC Superior Court order restricting court operations, MPD has expanded criteria that district stations will use to determine which arrestees will be released on citation pending a future court date instead of being held for presentment to court the next court day.
Due to suspension of certain services within the Department of Motor Vehicles Officers, officers will issue warning notices of infractions only for expired DC issued vehicle registration and for expired licenses/permits that expire on March 1, 2020 or after.
We are encouraging citizens to submit written statements to officers and detectives through email. Officers will ensure citizens are provided with an appropriate email address and they will confirm receipt of all communications.
Community Interactions
Meetings and events held at MPD facilities have been temporarily suspended.
MPD personnel are still available to answer your questions and concerns by contacting the appropriate unit or District station.
Arrangements to hold community PSA meetings via conference call should be made to your assigned District Community Outreach Coordinator.
Filing Police Reports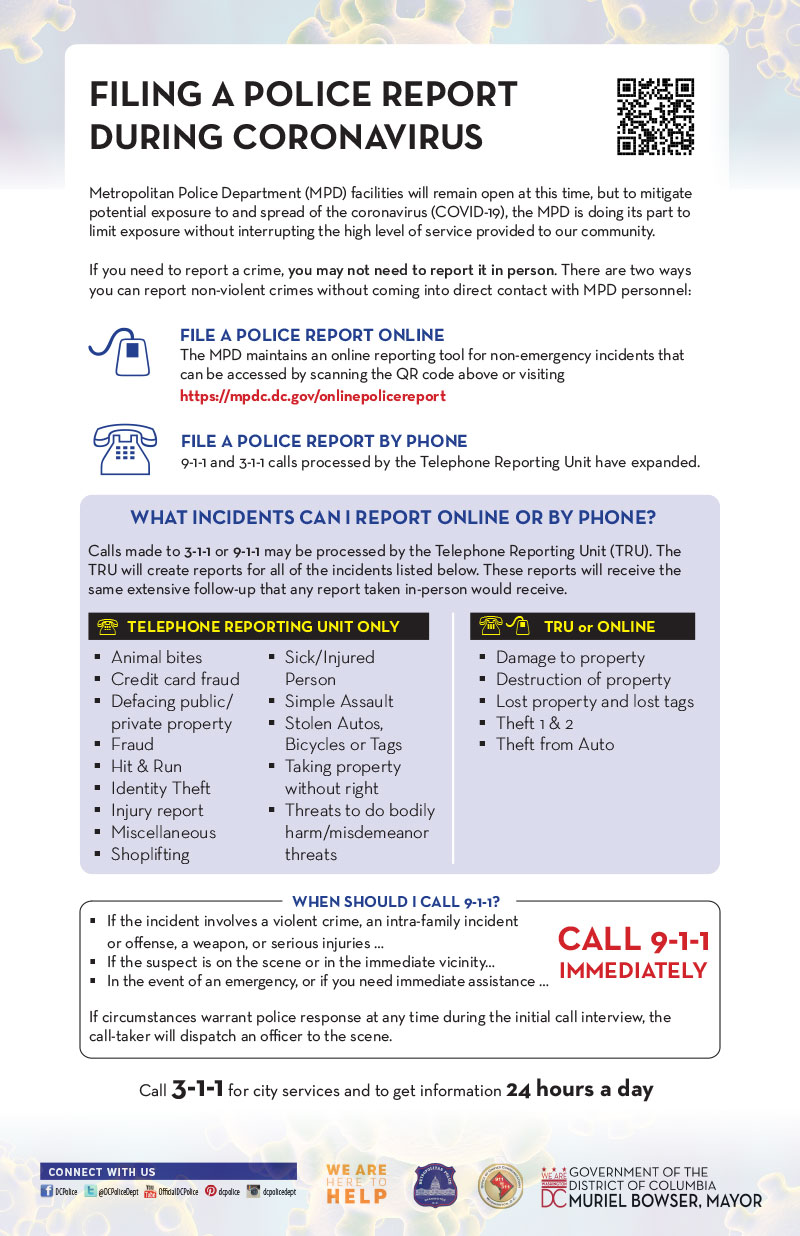 To mitigate potential exposure to and spread of the coronavirus (COVID-19), the MPD is doing its part to limit exposure without interrupting the high level of service provided to our community. If you need to report a crime, you may not need to report it in person. There are two ways you can report non-violent crimes without coming into direct contact with MPD personnel:
File a Police Report Online
The MPD maintains an online reporting tool for non-emergency incidents that can be accessed by visiting MPD's Online Police Reporting Tool.
File a Police Report by Phone
9-1-1 and 3-1-1 calls processed by the Telephone Reporting Unit have expanded.
Learn more about filing a police report by phone or online
(PDFs available in multiple languages)
About the Telephone Reporting Unit
The Office of Unified Communications' Telephone Reporting Unit (TRU) was designed to manage and generate non-emergency incident or offense police reports telephonically for specified event types. Learn more about the TRU.
Obtaining Police Reports
All requests to obtain police reports or accident reports should be made by email, phone or mail ONLY from MPD's Public Documents Unit. While MPD facilities remain open at this time, we request that citizens use one of the alternative options.
Email requests should be submitted to

[email protected]

and should include as much of the following information:

Full name
Date, time and location of the incident or accident
Six digit report number (CCN)


Phone requests should be made to MPD's Public Documents Unit at (202) 727-4357.

Mail requests should include a self-addressed stamped envelope and be mailed to MPD's Public Documents Unit at:
Metropolitan Police Department
Public Documents Unit
ATTN: Accident/Incident Reports
300 Indiana Avenue NW, Room 3075
Washington, DC 20001
Security Licensing
Licenses that expire during the declared emergency for coronavirus (COVID-19) will be considered valid, and people will have until 90 days after the declared emergency is over to submit renewal applications. More information will be forthcoming from the Department of Consumer and Regulatory Affairs.
Any service not mentioned above will be handled as usual until further notice.
The safety and well-being of our members and residents remain a top priority of the Department. As we continue working to mitigate the spread of COVID-19, we ask for your patience, understanding, and cooperation.
---
For the latest information on the District Government's response to COVID-19, please visit coronavirus.dc.gov.