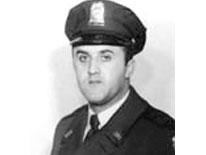 October 16, 1976
To the family of Sgt. Acri in memoriam of his birthday tomorrow. Your husband and dad worked for my father, who is now retired from the MPD, Lt. Joe Dunn. I vividly remember that day when the phone rang early in the morning. I ran up to my parents' bedroom to get my dad, and as he sat on my bed listening on the phone, I would remember it as the first time in my life (at the age of 14) that I ever saw my dad cry. And it was more bawling than crying.

From that point forward, it made me appreciate their service, and I never took his return home for granted. At the dinner table, we always prayed for your family.

To this day, I have police officer family and friends. I try to do something extra for them. And when another one is lost in the line of duty, my heart sinks, I shed more tears and I keep all of you in my prayers.

The next time I'm home, I will visit the Law Enforcement memorial with all of you in my thoughts and prayers. My dad loved Mike. There was nothing he wouldn't have done for you guys.

Happy birthday to Mike, and my gratitude for his service to the community.

Betsey Dunn Kirkemo
—August 21, 2014
---
Happy birthday.

Mike's Family: Mike is enrolled in Find-A-Grave, memorial number 18007916.

Please contact me: [email protected]
John Rentz
—Submitted August 22, 2011
---
Happy Birthday Sergeant Acri, please pardon me as I am one day late.
John Rentz
—Submitted August 23, 2010
---
It's another Fathers Day without you and I MISS YOU alot. Time goes by but we will never forget. I think about you every day an wish for you to be here to guide us through hard times. Your Strength and Humor would pull us thru anything! I LOVE YOU DAD and MISS you, Please guide us during these hard times. GOD BLESS AND REST IN PEACE

JO
Jo Cohen
—Submitted June 20, 2010
---
Dad even though the years are passing, the older I get the more I MISS YOU. I respect you more and understand you more. I wish you were here to see your family grow, I know deep inside you are with us ALL- watching over us!!!
I LOVE YOU AND MISS YOU.

FOREVER JO
XOXOXOXOXOXOXOXO
Jo Acri
—Submitted October 16, 2007
---
As always you are loved and very much missed, be blessed and know I am here to do the best I can to take care of everyone as you watch over us all. I hope to meet you sir at the gates of heaven. Hugh
And most importantly, happy Father's Day!
Hugh Edwin Hall, III
—Submitted June 16, 2007
---
Dad, I LOVE YOU and MISS YOU!
Jo
—Submitted October 24, 2006
---
HAPPY BIRTHDAY DAD! We know you will only be surrounded by the very best on your very special day, and you will be in our thoughts and prayers today and everyday!!! We miss you always.
Your Loving Family
—Submitted August 22, 2006
---
With loving regard from your distant cousin -- grandson of Mary
and Neil Acri from Hazleton, PA.
Neil Acri
Chief, National Fugitive Operations
US Deptartment of Homeland Security, Washington DC
—Submitted July 19, 2006
---
Happy Birthday, Dad!!!! We so much wish we could all be togeather. Someday we will, and we will celebrate every day! We love and miss you more everyday!
Your loving family
—Submitted August 21, 2004
---
I just learned of this site today and saw Michael in the list of the fallen along with some others I knew. I was a sergeant assigned to the Fifth District and I was coming in to relieve Michael and his crew for the day work tour. Michael and his crew had worked the midnight shift. When we were in roll call, we heard the incident and I was dispatched with several officers to preserve the scene, gather witnesses and relieve all midnight officers at the scene. I had a woman tell me that she heard Michael's last word. He said, "Jesus." And then I believe he was with Him. I have no doubts that Michael, as soon as he uttered his Lord's name, was out of the body and present with the Lord.
Harold F. Titus
—Submitted November 19, 2003
---
Happy Birthday August 22 To our most beloved husband, father, and grandfather who we miss so very, very much! You are in our thoughts every minute of every day!!! WE LOVE AND MISS YOU MORE THAN WORDS CAN EVER SAY.
Michele Acri Hall
—Submitted August 21, 2003
---
Dad, another year has gone by, twenty-five years have not made our grief any easier. You are our Hero!
The tragedies of the world have only intensified our grief! It has brought back the memories of what all of the families are going through. They too have lost their Heroes! We truly know alot of your brothers are with you now, and you will protect us from harm's way and give us the strength to get through. Because Dad, you will always be our hero!! We Love You!!!!
God Bless and Keep you!
Mom
Shell and Hugh, Michael and Justin
Jo and Gina
Jim and Nadine
—Submitted November 7, 2001
---
It has been almost 13 years since I retired from the MPDC. When looking over this site, memories came back to me of several of those officers who were killed in the line of duty. I personally knew at least five fellow officers who paid the supreme sacrifice...Mike Acri (whom I worked with in K9), Bill "Siggy" Sigmon (the first officer I worked with on a walking beat in old #8 in 1968), Gail Cobb and Bob Remington (also fellow Second District officers), and Steven Williams (one class ahead of me in Rookie School).
I was proud to have been associated with them as a member of the Metropolitan Police Department. I don't think I will ever forget their names.
— Charles N. Barrett (1967-1987)
Submitted July 25, 2001
---
Dad,
Again another Father's Day has passed, our thoughts and prayers are with you on this special day. Your grandsons Michael and Justin often ask of you each night before bed...you are in our prayers. Our homes are filled with special memories of you. We often speak of you and the wonderful times we had and very much miss.
Happy Father's Day Dad!! We Love you...
—Mom, Jo, Shell, Hugh, Jimmy, Nadine.
God Bless and keep you Grandfather!
—Grandchildren, Gina, Michael, Justin
Submitted June 20, 2001
---
Mike,
It only seems like yesterday that you and I worked together in the Fifth District. I was there the day you left us. I remember "bumming" cigarettes from you in the Sergeants' locker room and both of us telling "war stories."
You made the ultimate sacrifice for this community! I as your coworker and friend realize the extent of what you gave.
Thanks Mike for your giving and generous personality.
— Bill Donnelly, Sergeant (Retired), Fifth District
Submitted February 16, 2001 (via Washington Post)
---
Mike,
We started out together on that long and uncertain road that led us to a profession we were honored to be associated with. The initial indoctrination period, the academy and later as we were sent our separate ways, within the department, to fulfill the responsibility we had accepted.
We were caring officers and we vowed to make our city a better place for everyone to live in peace and harmony. We took great strides in our everyday activities to accomplish these goals and as a result of your dedication to duty you paid the supreme sacrifice.
Good-bye old friend, but remember, you will always be a part of us, for Heroes like you, will outlive the ages. You have answered to a greater roll call and time is on your side. God Bless.
I'll go my separate way but I'm proud to have walked the threshold here on Earth with you.
A fellow officer from the year of 1961,
— Dale E. Wallace
Submitted February 5, 2001
---
God Bless You Sir,
My life would not be what it is if it wasn't for you. I love Shelly very very much! I love Mrs. Acri also very much. Without you, this love would have never happened —this family would not be.
We all are thankful for you. I long to meet you in Heaven because I know that I will someday. We are so fortunate to have you to watch over us each day. Again, God Bless you and know, Dear Sir, you will never be forgotten.
— Love, Hugh
Submitted October 16, 2000
---
Grandfather Acri,
Please know that we love you. We know that you are with us every day, and that you are one of God's angels. And the people that have left us recently are with you and our Heavenly Father.
God Bless and keep you, Grandfather. We hold you in our prayers.
— Grandchildren Michael, Justin, Gina
Submitted October 16, 2000
---
Dad,
Twenty-four years have gone by now, and our Love and memories have only grown stronger for you. We had the best life any family could ever have because of that you taught us to be what we are today, and we truly Love you for that! There is not a day that goes by that we don't think of, or talk about, you and our wonderful times together. We still cry, but we cry because of your Love and devotion that you gave to us! We truly know that we still have that with you.
So that is what makes us stop the crying and begin to smile again. You're forever in our lives!!!
WE LOVE YOU, DADDY!!!
— Mom, Hugh and Shell, Jo and Gina, Jimmy and Nadine and all that love you!
Submitted October 16, 2000
---
Grandfather Acri,
On your birthday, August 22, we Love and miss you. We all know that you are with us always. Father, God Bless and keep you ... for you are in our hearts. See you in Heaven.
We Love you.
Rosalie, Wife
Jo, Michele, Daughters
Jimmy, Son
Hugh, Son-in-Law
Gina, Michael, Justin, Grandchildren
Submitted August 21, 2000

To our beloved father... We miss you so very much! We cherish the memories we have of you on this Father's Day.
HAPPY FATHER'S DAY TO THE BEST DAD IN THE WHOLE WORLD!!!!!!!!!!!!
WITH LOVE TO YOU ALWAYS
JO, JIM, and SHELLY
Submitted June 18, 2000
---
We all Love and miss you.
— Grandchildren Michael, Justin, Gina
Submitted June 17, 2000
---
I wish that I could have known you. I love your daughter very much! I have a respect for you that no other son in-law would ever have for his father-in-law. My mother-in-law who has been a mom to me, I love very dearly. It's my wish that you were here with us! We will see you in Heaven. God Bless You!!!!!!
— Love, Hugh
Submitted June 17, 2000
---
Date of Death: October 16, 1976
Rank: Sergeant
Age: 39
Years of Service: 13
Marital Status: Married
Children: Three
Location of Death: 816 E Street, NE
Circumstance:
Sergeant Acri and other officers responded to a domestic call for a man threatening a woman with a knife. Upon their arrival the female was placed under arrest for destruction of property. Sergeant Acri was talking to the male when they suddenly became involved in a struggle. The male grabbed Sergeant Acri's revolver and wounded one officer in the leg and fatally shot Sgt. Acri in the chest.
Sergeant Acri died on the scene.
Return to the list of fallen officers.