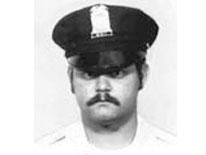 Date of Death: October 6, 1995
I just want to say that I am a recent graduate of American University and was honored to have been taught twice by Captain Josh Ederheimer. He brought in Sergeant Keith DeVille, Scott's partner, to speak to our class (both times) about this horrible situation these men were thrust into. Please do not ever let anyone forget the sacrifice Scott and the thousands of other officers have made so that the public can live in peace. As a young man pursuing a career in law enforcement, I implore you to remember all officers killed in the line of duty. I would also suggest a link from your website to the National Law Enforcement Officers Memorial, just a few short blocks away from the Daly Headquarters Building. Thank you for your time, and please, never forget.
— Tim
Submitted September 7, 2000 (via Washington Post)
---
Date of Death: October 6, 1995
Rank: Officer
Location of Death: 1400 Block of H Street, NE
Circumstance:
Officer Lewis was shot on the 1400 block of H Street, NE after he stopped to help a deaf motorist. The shooter, Melvin Darnell Pate, was fatally shot by Officer Keith DeVille, Officer Lewis' partner.
Return to the list of fallen officers.