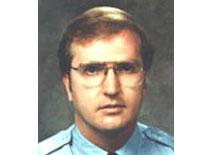 January 29, 1985
I think about Joe often and remember the night he was killed like it was yesterday. He was a great guy to work with and always had a smile for everyone. You'll always be remembered.
Dave Vann
—Submitted May 14, 2011
---
I was looking at the MPDC site and found this area. It made me think of Joe once more. I'll never forget the night my station clerk called me at home and told me that Joe was gone. Joe was simply the best.
Sgt. M. McArthur (ret.)
—Submitted January 19, 2007
---
Date of Death: January 29, 1985
Rank: Sergeant
Age: 30
Years of Service: Six
Marital Status: Married
Location of Death: Minnesota Avenue Metro Platform
Circumstance:
One of two suspects who robbed a Murray's Steaks store boarded a Metro Bus to escape. Sergeant Cournoyer observed the suspect on the bus and escorted him off for identification purposes. The suspect fought Sergeant Cournoyer, drew a gun, and shot him in the chest.
Return to the list of fallen officers.