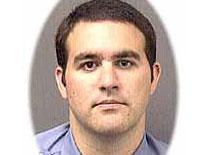 Date of Death: August 10, 2005
Jeanne and I were unable to attend Police Week this year, but we wanted all of you to know that the men and women of the MPDC are in our thoughts and prayers each and every day. God bless - Be safe.
Ken McBride
—Submitted May 20, 2007
---
Officer McBride was truly one of a kind. We were friends while we were in the academy together. However we became true homies during our last week prior to our graduation. I had some trouble with my final [physical training] run and I honestly did not think I could complete the run within the given time. When it came time to perform, I noticed Jim was in the bleachers. And then he stated, "Lump, you said we were all going to be the police on our first day of the accademy. Well I am here to make sure that you keep your word!"
McBride actually snuck out of class just to show me some encouragement during my task. From then on Mcbride was my "ACE" Man.
I am going to miss you, Bro. Your act of kindness will never be forgotten. You truly exemplified what being a police oficer is all about. Thank you for being one of the "Good Guys!"
God Bless You!!
Ofc. Lloyd Lumpkin Jr. (Lump)
—Submitted August 20, 2005
---
Baby, my heart aches for you every minute of every day since you've left me. You should have seen it...all your coworkers and friends came out to pay their respects. What a huge family you have!
I miss our lazy Sunday mornings together, and our late Friday nights. You are such an incredible, brilliant, humble, sweet man, and I'll always carry a piece of you in my heart.
I miss you baby, and I love you more than you'll ever know.
Monica Beck
—Submitted August 15, 2005
---
I have been present for every line-of-duty death since my appointment date. I regret Jim's was the first I missed. I was out of the country and unable to return for the funeral. Be assured, his death was felt across the ocean, as I shared his story with officers here in Bulgaria. I knew him from court and the street and will truly miss his presence.
Brett Parson (MPDC)
—Submitted August 14, 2005
---
To Jim: Hey copper, I miss you. You are a true friend. I met Jim seven years ago this month at American University. He was the first friend I ever made when I was an undergraduate and he was a loyal friend these past seven years. He and I worked in the multimedia labs at American as federal work study students. Somehow despite the fact most of the people who entered my life back then have left it, Jim stayed a presence in my life and the memory of his kindness and enduring friendship comforts me now that he has left us.
He and I became fast friends and our friendship was based on a love of movies, politics, and girls. I have so many memories of Jim, it is hard to start somewhere, but I want people to know how steadfast and loyal Jim was as a friend.
Jim was a Star Wars fan as am I, and in 2002, he and I were on our way to see the midnight showing of "Attack of the Clones" when a drunk driver rammed the back of my car. Jim was riding shotgun when we were struck. He got out and when the drunk driver tried to get out of incident, Jim started working the phone to make sure the police arrived to handle the situation. He and I emerged safely from the crash, but he was always there for me when I needed him.
The last few years we didn't see each as other as much. Jim was busy and so was I, but Jim always kept in touch via instant messenger. He always had good advice and I am going to miss asking his opinion on life's roadbumps. Once he became a police officer, we would always start our IM conversations the same way.
Chris: Hey copper.
Jim: Howdy citizen!
Chris: How goes?
God bless you Jim, your friendship has meant so much to me, I miss you.
Chris Hunter
—Submitted August 14, 2005
---
McBride, you will be sorely missed. Not only were you my academy classmate and fellow officer, but you was a friend too. You are definitely on the "beat" in heaven, looking down on us.
Rest in Peace Mac.
S. Hill
—Submitted August 13, 2005
---
I remember the first time I met Jim -- the first thing he did was show me his tattoo of the DC flag. He was so proud to be working in capital and in law enforcement. And I felt safe knowing that he was always watching out for me--off duty or on. He was such a good friend and he will be sorely missed. He was always a fan of a well-cooked meal, a big hug and a good joke.
Roberta A. Lamb
—Submitted August 13, 2005
---
Jim was truly a unique individual. Behind a gregarious personality and sense of adventure lay a person who believed very deeply in what he did. He did love DC - he loved its strengths, and he loved its flaws - and he pushed himself because he believed he could make those flaws better somehow. Always incredibly jovial, pointed, and passionate - he will be greatly missed.
Jared Degnan
—Submitted August 12, 2005
---
Jim,
We used to run into eachother when you were in college, and, well, when I wasn't doing much of anything. I never once imagined that you would become a police officer, and you probably never once figured that I would become a police officer either. But when I bumped into you at Police Week in May, I was surprised, but not surprised at the same time...if that makes any sense. We talked for a few minutes, and then went our seperate ways. When I would run into mutual friends after that, I would ask them if they knew that you were a police officer. I asked that because I was proud of you in a way.
I never thought that Police Week would be that last time I saw you. But as I sit here writing this, I realize something. I will see you, probably more often than before. You will be with me and every other officer you knew, everytime we are at work, on every call, on every traffic stop. Hopefully, you will keep an eye on each of us, and know that we will never forget you. And, most importantly, you will be with us at Police Week.
You've done good, Jim. Now, you can relax for a bit!! Your work will go on...the police department will go on, and it is a better job because people like you have been there to make it better.
Officer Matthew Van Dyke
—Submitted August 12, 2005
---
Date of Death: August 10, 2005
Rank: Officer
Age: 25
Years of Service: 2
Location of Death: Maurice T. Turner Jr. Institute of Police Science
Circumstance:
At approximately 2 pm, on Tuesday, August 9, 2005, 25-year-old Officer James McBride, a 2-year-veteran patrol officer with the Metropolitan Police Department's First District, became ill. Officer McBride was at the department's Maurice T. Turner Jr., Institute of Police Science taking part in the second day of a five-day-long bicycle training course when he became ill and was taken to the Washington Hospital Center.
At approximately 1:27 pm, on Wednesday, August 10, 2005, Officer McBride was pronounced dead. The cause of death will be determined pending an autopsy by the DC Office of the Chief Medical Examiner.
Chief of Police Charles H. Ramsey noted that Officer McBride was an outstanding officer and was named rookie of the year in 2004. He stated, "We have lost a beloved member of our family. The community has lost a valued and dedicated protector." He added, "Our hearts and prayers go out to his family and other loved ones."
Officer McBride will be buried, with full police honors, on Saturday, August 13, 2005, at All Souls Unitarian Church, 1500 Harvard Street, NW. Viewing is from 9-10 am; funeral services follow at 11 am.
Return to the list of fallen officers.