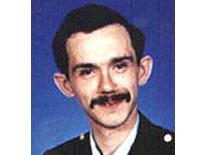 February 12, 1980
I am glad to have a chance to provide this remembrance of Officer Snyder.
I was a Reserve Officer assigned to 3D from 1977 to 1983 and rode with him on several shifts. I remember him very well. He was unfailingly polite to everyone, including those he arrested. I do recall one incident where someone he had arrested a few days earlier had been re-arrested, on other charges, by another 3D officer. The suspect asked that Officer Snyder come to the 3D cellblock and process his second arrest, because of how well he (the suspect) had been treated when Officer Snyder arrested him.
I also recall that Officer Snyder was a deeply religous man who was very plain spoken and who was well liked by the other officers in 3D. One of his skills, which I found amazing, was his ability to find guns while making traffic stops and during pedestrian stop and frisks. One night, while riding with him, he recovered a gun during a traffic stop we made together.
Arthur Snyder's death was a terrible blow to the 3D officers generally, and to all MPDC officers. In 1980 14th and U NW was a teeming hotbed of drug activity. Hundreds of drug dealers and users would congregate at that intersection. Officer Snyder, without regard to his own safety, plunged in to this crowd to arrest someone in it for an outstanding warrant. A less agressive officer might have waited for additional backup before attempting this kind of arrest.
His death hit all officers—regular and reserve—very hard, not only because he was so popular, but because he had been brutally gunned down by a drug dealer who had been released from jail because of a paperwork error. Several days after the shooting the perpetrator was shot and killed while trying to escape arrest.
Thank you for a chance to share my memories of Arthur Snyder.
— Andrew Karp
Submitted July 2, 2001
---
Date of Death: February 12, 1980
Rank: Officer
Age: 29
Years of Service: Four
Marital Status: Married
Location of Death: 14th and U Streets, NW

Circumstance:
On February 11, 1980, Officer Snyder and his partner saw a drug transaction in the 2000 block of 14th Street, NW and attempted to arrest the suspect. The officers separated, trying to trap the suspect between them in case he fled on foot. As Officer Snyder approached, he was shot in the head and stomach below his bullet proof vest.
His partner fired at the suspect and then grabbed Officer Snyder's weapon and fired it.
Officer Snyder died the following day.
Return to the list of fallen officers.