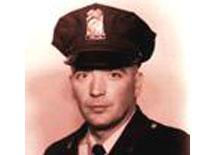 July 14, 1969

To my father,
As my birthday gets closer I think more about my father. I wonder what he was like, but I feel proud of his sacrifice. Today I would like to ask anyone reading this who might have known him and might have a copy of his obituary or worked with him to e-mail me. To his wife, Mom, I love you and would like to talk to you some day. Thank you for your time and remember all officers who have made the ultimate sacrifice... and the ones they left behind.
— Michael Cody Langevin
Submitted September 9, 2003
---
Date of Death: July 14, 1969
Rank: Officer
Age: 29
Years of Service: One
Marital Status: Married
Children: Wife pregnant
Location of Death: 8th & K Streets, NE
Circumstance:
On July 14, 1969 at 1:55 am, Officers Cody and Hawfield were operating a patrol wagon west bound on K Street at 8th. A vehicle failed to stop for the flashing red light and collided with the Patrol Wagon. The force of the accident was so severe that it threw the two officers through the windshield.
Both officers died from their injuries.
As Officer Cody was dying on the ground, a citizen stole his weapon from its holster.
Return to the list of fallen officers.