The MPD has various methods for working with communities where drug sales and other illicit activity have plagued residents and crime has followed. Each patrol district has a vice unit set up to help curtail and eliminate illegal drug sales and other activities such as prostitution, gambling, and so forth. These units are augmented by a centralized Narcotics and Specialized Investigation Division, which may conduct its own interdiction and prevention methods or work with the patrol-based teams on larger cases. Other law enforcement agencies may become involved to provide additional support or work as part of a joint task force; these include the Drug Enforcement Administration, Federal Bureau of Investigation, US Park Police, US Marshals service and others.

The MPD is also part of the Capital Area Regional Fugitive Task Force, which combines local and federal law enforcement to go after and arrest members of the public who are wanted on various warrants for violent offenses. These agents work to identify and locate alleged criminals for a variety of violent activities such as homicide or assault with intent to kill, often associated with the drug trade.

MPD may employ a wide range of enforcement options designed to disrupt or end illegal activities in a community. Such tactics may include:
Buy-bust narcotics operations, which may span several months or even years
Buy-bust prostitution operations
Reversal drug operations
Execution of a search warrant on a drug dealer's residence, stash house, vehicle, or person vehicular patrol interdiction (traffic stops)
Surveillance operations and observation posts, to help counter instances where drug dealers refuse to sell to unknown buyers (i.e., undercover police officers)
Overwhelming police presence with high-visibility patrols, designed to deter crime and activity
Directive crime patrols using tactical units and focused patrols
Foot patrols, which enable officers to interact with the community and have a greater opportunity for catching criminals off guard
Drug Arrests in Our Communities
In just two years -- 2009 and 2010, law enforcement agencies made nearly 20,000 arrests for narcotic drug law offenses, representing 19 percent of the total arrests for all offenses throughout the city. The most common drug-related arrest was for posession, distribution, or possession with the intent to distribute marijuana, accounting for 8,884 arrests. Other drugs with high arrest rates in the last two years include cocaine (4,957), heroin (1,901), and PCP (1,021).
Drug Seizures in Our Communities
In 2010, the patrol district's vice units made a significant impact in the street-level sales of illegal drugs and other narcotics throughout the District of Columbia. By far the most prevalent street drug is marijuana -- officers recovered 36,746 grams in 2010. But criminals are also dealing in PCP (2,013 ml), heroin (395 grams), cocaine (1,792 grams) and methamphetatimes, MDMA, and prescription drugs. The arrests and seizures accounted for nearly $450,000 in US Currency seized last year as well as $826,032 of drugs in total street value.

The charts below illustrate where various illegal drugs are being seized in the city, showing the distribution by police district.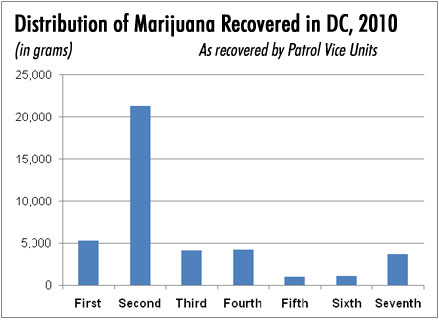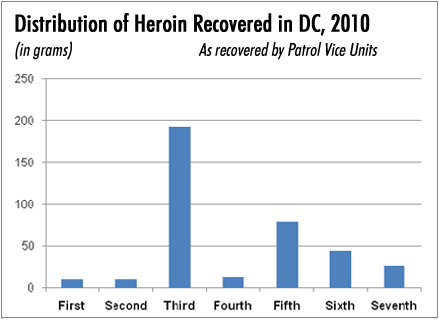 NSID Recoveries
In addition to the work of the patrol district vice units, the centralized Narcotics and Specialized Investigation Division, part of the Investigative Services Bureau, also makes a significant dent in the drug trade throughout the District of Columbia. These squads were responsible for seizing 8,654 grams of crack cocaine; 19,182 grams of cocaine HCl; 383,456 grams of marijuana; 6,131 grams of heroin; and 21,177 grams of phencycldine (PCP). The division also recovered over 1,000 Ecstasy pills, 59,000+ grams of crystal methamphetimine, 230,878 grams of khat, and 283 ounces of methdadone. NSID's seizures are cross-jurisdictional and include busts made in Maryland and Virginia as part of joint take-downs, but these numbers show just how widespread the problem of illegal drugs can be.