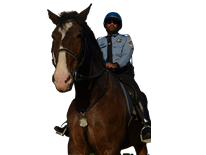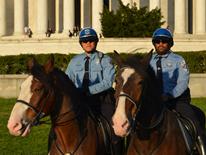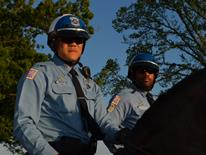 Meet the Member: My college roommate from the University of Maryland Eastern Shore, who was already a MPD Officer dared me to take the MPD Police Officers test in 1990. The rest is history. I patrolled in the Seventh District for 17 years. Even though I had never been on a horse I was intrigued by a Vacancy Announcement for the Horse Mounted Unit. I applied and too my surprise I was selected. I went through the vigorous training program with the Montgomery County Maryland National Capitol Park Police and I have been riding tall ever since. My current assignment with the Horse Mounted Unit is Great. When adults and kids see the horses they voluntary come up and pet the horse and start basic conversations that a normal patrol officer wouldn't experience.
About the Unit: After receiving specialized training, select officers provide patrol support while mounted on horse-back. Horse mounted patrols are useful for crowd control thanks to their high vantage point and increased visibility. The MPD Horse Mounted Unit, part of the Special Operations Division, makes a statement wherever they go. The unit's four horses – "Thunder", "Sampson", "Rosie", and "Seamus" – are housed at a facility in Fort Dupont Park, but whenever they hit the streets, the community draws around to meet the horses and their mounts. The team of Clydesdales and Belgian and Percheon quarter horses are used during parades, protests, marches, festivals, out-side stadiums and sporting venues and for other special events.
Get Involved: Joining the Metropolitan Police Department as an Entry-Level Patrol Officer is the first step at launching your exciting career in law enforcement. The Metropolitan Police Department is actively recruiting and hiring officers to fill monthly new recruit officer classes. The Department offers a wide variety of benefits, including tuition reimbursement for continuing education, and offers a competitive starting salary of $48,715. To apply click here.