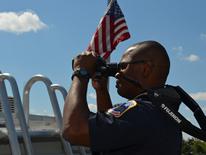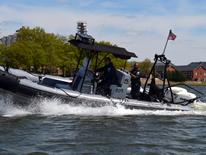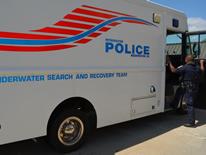 Meet the Member: I was born and raised in Washington, D.C. I was inspired to be a Police Officer at a very young age. As a young kid I enjoyed Ride-Alongs with my Uncle who was a Police Officer with 4D. When I was twelve years old, I was fascinated by a 1975 television show called "SWAT". I knew I wanted to be just like those guys. I was sworn in as a police officer on October 14, 1986. After 3 years as a patrol officer I tried out and was selected for the Emergency Response Team (ERT) which is what MPD's SWAT team is called. I had made my dream come true! I spent eleven good action packed years in ERT. As part of my ERT training I was taught to SCUBA dive by Harbor Patrol. I eventually transferred to Harbor Patrol in August of 2000 where I am currently assigned. Harbor Patrol is without a doubt one of the best units in MPD. It's so much fun and challenging at the same time. For my recreation time, I am a licensed Private Pilot. MPD has been the perfect organization for me to have an exciting, multifaceted career.
About the Unit: Patrolling the waterways of the Nation's Capital is a unique role within the Metropolitan Police Department. The Harbor Patrol Unit handles crimes and calls for service on the District's two rivers — the Potomac and Anacostia — and aids other agencies with water rescues and other emergency functions. Members assigned to Harbor conduct regular "boardings" of private watercraft and commercial vessels to ensure compliance with the city's laws, enforcing operating while under the influence and checking boats and their passengers for safety equipment, running lights, and other vital mea­sures to ensure occupants' safety.
Get Involved: Joining the Metropolitan Police Department as an Entry-Level Patrol Officer is the first step at launching your exciting career in law enforcement. The Metropolitan Police Department is actively recruiting and hiring officers to fill monthly new recruit officer classes. The Department offers a wide variety of benefits, including tuition reimbursement for continuing education, and offers a competitive starting salary of $48,715. To apply click here.