The Reserve Corps Division participates in numerous special events and details throughout the year. Below is a small representation of the numerous areas of contribution:
Chinese New Year Celebration
The MPD's Reserve Corps Division (RCD) assists in making the DC Chinese New Year celebration event safe for participants and onlookers. Members of the RCD deploy in high numbers to provide police service. They help with traffic control and crime patrol. They also provid staffing support to MPD's Asian Liaison Station. The deployment of the RCD enhances manpower in the various events in Chinatown. They also assist in crime reduction initiatives throughout the city.
Saint Patrick's Day Parade
The Reserve Corps provides crowd control support for the annual St. Patrick's Day parade along Constitution Avenue, NW. Members man several posts along Constitution Avenue, assisting with crowd and traffic control.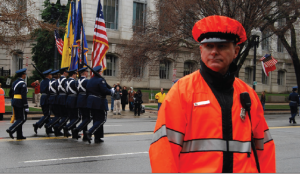 Halloween Georgetown Detail
On Halloween, Georgetown, near M Street and Wisconsin Avenue, NW—Halloween Eve—has traditionally been the main thoroughfare for many residents, tourists and party goers making their way to patronize local clubs and restaurants. In addition, many citizens parade up and down the sidewalks showing off their Halloween costumes. With the increased pedestrian and vehicular traffic, this area requires additional police resources. The Reserve Corps deploys to assist patrol officers in the Second District with traffic and crowd control. As has been the practice for many years, the Reserve Corps deploys to assist career members in providing a safe passage for citizens.