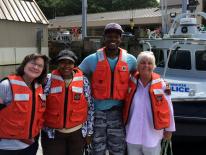 MPD is currently preparing for the Fall 2017/Spring 2018 Cohort of the Community Engagement Academy (Cohort #8/9). Click here to submit an interest card and/or to request more information.
In the Summer of 2015, MPD launched the Department's Community Engagement Academy initiative. This initiative allows interested community members the ability to learn firsthand about police operations. Through this initiative the Department seeks to provide all participants with a personal view of the positive aspects and challenges that confront officers on a daily basis. During the six week and twenty-eight hour training program, participants encounter discussion and presentation on the following items:
Overview of our Recruit Training Program
Common Policing Scenarios and Challenges
Juvenile Issues and Youth Investigations
Overview of Patrol Services and Station Tour
Overview of Specialized Policing Units (e.g., K-9, bomb squad, harbor patrol)
Use of Force Discussion
Discussion on Relevant Policing Topics with Command Staff Members
There are three cohorts of the Community Engagement Academy held annually (Summer, Fall, and Spring). Participants must undergo a basic background check prior to participation. For more information, please contact:
Marvin (Ben) Haiman, Director
Patrol Services | Office of Volunteer Coordination
Email: [email protected]
Phone: (202) 270-1688
Over 140 community members from all seven police districts have completed the more than twenty-eight hours of training, tours, discussion, and presentations regarding Departmental policies, practices, and procedures on various police-related issues.
Members of the Community Engagement Academy also participated in a discussion regarding law enforcement and society in partnership with the United States Holocaust Memorial Museum. Please view the video below where members discuss the impact the experience had on them:
View Photos