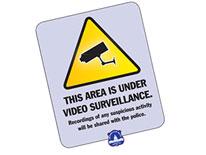 Help the Police Protect Your Home or Business and Solve Crimes
Register Online!
Register your Home or Business CCTV with the MPD Using our New Online Registration Form

Deter crime around your home or business and help the police hold offenders accountable. By raising awareness and telling the Metropolitan Police Department about your closed-circuit TV or other video system, you can deter crime and help catch perpetrators of serious crimes in your community.
FBI: Caught On Camera
Caught on Camera is a video created by the FBI's Operational Technology Division to show business owners how their security cameras can aid law enforcement investigations and maybe even help stop a terrorist attack.
MPD's CCTV Deployment
The Metropolitan Police Department operates a network of closed-circuit television (CCTV) cameras in neighborhoods throughout the District of Columbia to help combat crime. Although many factors help to drive down crime, data indicate that the areas with CCTV crime cameras outperformed—or had a greater reduction in violent crime than—the city as a whole. In addition, video from the cameras can be used to help identify suspects and develop leads after an event has occurred.
How You Can Help
Let the Community Know You Have a Camera
Cameras can only help prevent crime if people know they are there. If you have a CCTV or other camera system in your home or business, you are encouraged to post a sign in a conspicuous place indicating that a CCTV or other surveillance system is in operation and that you will share recordings of suspicious activity with the police.
Tell Us About Your System
In addition, you can help support criminal investigations by notifying us about your system. This can help accelerate the investigations if a crime occurs near your home or place of business, helping the police to quickly identify suspects and witnesses. Your participation is entirely voluntary and costs nothing. The benefit to you is the knowledge that you will be helping the police prevent and deter crime.
What Will Happen Next?
The information you provide will be used by police to help us identify security cameras around the city. If a crime takes place near your home or business, the police may contact the representative provided on your notification form to arrange the transfer of the video from your establishment to the police department. The videotape or digital file may assist detectives in their investigation and it could become evidence in a criminal trial.
What Legal Ramifications Are There?
No additional legal responsibility will be placed on you as a result of notifying us of your camera system. This is simply a voluntary notice to the police that you have a video security system. In the event of a crime, video from your camera system may be used as evidence or to assist detectives in gathering leads.
Should I Call Police If I Know Something Has Happened or Might Happen?
If you are aware of a crime that may have occurred at or near your home or business, you should call the police — by dialing 9-1-1 — to alert us to the activity. If you think something suspicious may be taking place but have not witnessed or seen the results of a crime, you are encouraged to call the police, but do not take any action on your own. Be sure to mention the camera to the responding officer.
---
What You Should Know If a Suspected Crime Is Caught On Your Video System
Do not work or operate the recording device to determine if it actually recorded the crime. Once officers are on the scene, we can work with video recovery specialists to ensure any evidence is maintained.
If your system is analog (e.g., videotape/VCR), stop the tape and remove it from the machine to preserve the video.
If your system is digital, ensure that either an employee or contractor/technician is available to assist in downloading the video.
Change tapes routinely so the tape quality doesn't wear out. Analog systems that record over themselves often deteriorate the video tapes and lessen the quality or even fail to record.
Do not show the video to anyone other than the police, and do not make copies of it.
If you have a security company managing your recording system that uses an off-site recording technology, contact them after notifying the police.
Tell them that steps need to be taken to secure and provide a recording to police.
Call the police to respond and retrieve the evidence or ensure the officers/detectives on the scene are aware of the camera system records.
Always have at least one employee available with access to the machine to assist the police in reviewing and/or retrieving copies of the videos.
Do not allow person(s) who do not have knowledge of the equipment to operate it or attempt to download the information as it may erase the video.
Have a routine in place to make sure that the cameras are operational and recording properly.
Ensure your employees are familiar with the system.
Do not disconnect or remove power from any recording system.
If you believe your system has captured any suspicious activity or crime, we will work with your security company or insurance company to retrieve the footage. Please understand that the recording may be considered evidence in a criminal proceeding.
Please note that the MPD does not endorse or make recommendations regarding specific surveillance equipment or technologies.
---
Downloadable Placards
The CCTV Partner warning placard/sign is available in English, Spanish, Vietnamese, Simplified Chinese, Korean, French, and Amharic. A large poster has the warning in all seven languages on a single 11 x 17 poster; the letter-size placards are available in each individual language (each page of the PDF contains a separate language).