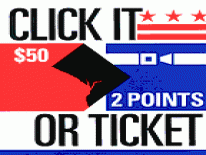 The District has one of the strongest, most comprehensive seat belt laws in the nation. After the law was enacted in 1997, seat belt use increased 24 percent. Injuries were prevented. Lives were saved.
It takes a few seconds to fasten a seat belt. It's so simple. Yet it can be the most significant action you can take to protect your life and those you care about.
Buckling up dramatically increases your chance of surviving a crash. And it's your best weapon against a drunk, tired, or aggressive driver.
You Will Be Pulled Over
Unlike many other states, District law allows police to stop a vehicle solely because its drivers and passengers are not properly buckled up.
In addition, the Metropolitan Police Department is an active participant in the National Safety Council's Air Bag & Seat Belt Safety Campaign. Each spring and fall, the Department participates in the annual Operation ABC (America Buckles-up Children) Mobilizations - nationwide crackdowns on drivers who are not buckled up or who do not properly secure their child passengers.
$50 Fine & 2 Points
That's the penalty for not having your seat belt properly buckled at all times—for drivers and all passengers, in front and back seats—with few exceptions. Drivers are responsible for seat belt compliance for all passengers.
Drivers who fail to properly secure their child passengers face even stiffer penalties: a $75 fine and 2 points for a first offense, and a $150 fine for fourth and subsequent offenses. DC law now requires that all children under the age of 8 be properly seated in an infant, toddler or booster seat, and that 8- to 16-year-olds be secured with a safety belt. (More details on DC's Child Passenger Safety Law.)
Why It's So Important
Traffic crashes are a leading cause of death in the US—someone is killed every 13 minutes and injured every 9 seconds.
Wearing seat belts is the most effective way of cutting the death toll. Seat belts saved over 11,000 Americans in 2000.
Over half of the people killed in traffic crashes in 2000 were not wearing seat belts.
We all pay for those not wearing seat belts—in higher taxes, health care and insurance costs.
No Excuses—Zero Tolerance
"It doesn't fit. It's uncomfortable."
Readjust it, see your dealer for an extender, or purchase one of any number of seat belt aids available.
"But I'm a good driver."
You may be, but others aren't. Seat belts protect everyone.
"I was going to put it on."
Buckle up - every trip, every time.