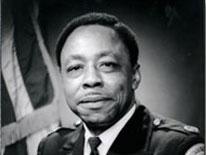 Chief of Police (January 1978-June 1981)
Burtell M. Jefferson is a native Washingtonian and U.S Army veteran. He joined the Metropolitan Police department in 1948, when only a handful of black officers were on the job. The department was still segregated in some fashion then, with patrol car assignments and desirable beats being given to white officers, while black officers were relegated to certain beats and areas.
Patrolman Jefferson started in the 9th Precinct but by 1950 became a Detective and worked in several different investigative units to include the Robbery Squad and Morals Division. He made Detective Sergeant in 1963, and thus began a rise to the top.

He was promoted to Lieutenant in 1968, and by 1974, he was as Assistant Chief in Charge of the Field Operations Bureau. Assistant Chief Jefferson was among a small number of blacks who had made their way to the top echelons of the Police Department and in 1978, he became the first African American to be named Chief of Police.

Chief Jefferson took over a department that was in good order, but crime in the city had been steadily rising. He was a very community minded person, and like his predecessors was educated at American University, attended the FBI, National Academy and also attended Howard University School of Engineering.

Chief Jefferson initiated the new rank of "Master Patrol Officer," and worked toward better community relations. He was Chief during the "Farmers" demonstrations when the city was gridlocked by angry farmers protesting in their tractors. His tenure saw a reduction in crime, but he had to contend with restrictions due to the energy crisis, constant threats of personnel cuts, and with outspoken dissension of some of his detectives against their commander.

Chief Jefferson was responsible for numerous publications and has been recognized by countless national, local and private leaders for his contributions to the betterment of the city. After serving thirty three years, Chief Jefferson retired in 1981.