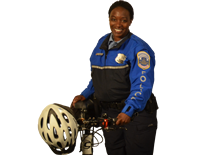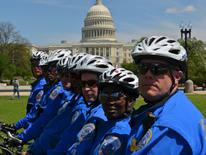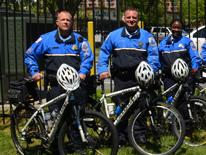 Meet the Member: I am a native Washingtonian and a graduate of McKinley Technical High School. I have always loved helping people and I knew that I wanted a career that allowed me to do what I loved. My sister, who is a Fire Department Inspector convinced me that a career with the Metropolitan Police Department was a career that would allow me to serve and help people in my community. I joined MPD on September 29, 2003 and am currently assigned to the Mountain Bike Tactical Unit. I like working bike patrol because you get to meet new people every day and work closely with the community. I enjoy interacting with children and I think children can relate more easily to Bike Patrol Officers. In addition to my Bike Patrol Officer duties, I am also a Special Liaison Officer who works with the Deaf and Hard of Hearing Unit as needed. I learned American Sign Language (ASL) at Gallaudet University in Washington, DC. I intend to complete my Associate Degree in Criminal Justice from the Prince Georges Community College with help from the financial assistance I will receive from the MPD Tuition Assistance Program.
About the Unit: Patrolling the District's communities via bicycle gives officer mobility through alleys and other difficult terrain that can give them an advantage over other vehicles. Each police district and the Special Operations Division has a Mountain Bike Unit that helps patrol these areas and enables officers to travel to a call quickly and safely. Bike officers also offer a tactical advantage in situations requiring a more stealthy response – they make almost no noise, so perpetrators of crime have less time to react to their presence. They also give officers a chance to develop closer ties to the communities they serve.
Get Involved: Joining the Metropolitan Police Department as an Entry-Level Patrol Officer is the first step at launching your exciting career in law enforcement. The Metropolitan Police Department is actively recruiting and hiring officers to fill monthly new recruit officer classes. The Department offers a wide variety of benefits, including tuition reimbursement for continuing education, and offers a competitive starting salary of $48,715. To apply click here.