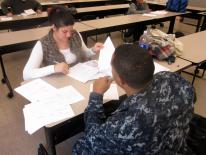 Following successful completion of the Physical Ability Test (PAT) and the Written Examination applicants will meet with an applicant screener to discuss their background orientation packet and Personal History Statement (PHS). A thorough background check is conducted on all entry level officer applications. As a part of the background check it is required that applicants bring in specific documents. During the interview with the applicant screener, you will discuss many aspects of your background. Many applicants are hesitant to reveal information that they fear may disqualify them from employment. Keep in mind that many minor violations are not automatic disqualifiers to appointment. However, failure to provide truthful, accurate, and complete information will disqualify an applicant from employment.
Further information is provided during new candidate orientation; however, below are some of the required documents:
| | |
| --- | --- |
| Required Documents | If Applicable |
| Birth Certificate | Worker's Compensation Records |
| High School Dipolma or GED With Test Scores | Citizenship Documents (Alien Registration Number & Naturalization Paperwork) |
| College Degree & Transcripts (Original Copy Requested) | Last Mortgage Statement |
| Resume | Military Status Documents (DD-214 or Selective Service Registration http://sss.gov/) |
| Driver's License | Marital Status Documents (Marriage License, Divorce Decree, etc) |
| Picture Identification (Photo ID, etc) | Unemployment Records |
| Social Security Card | All Court Orders (Judgments, Liens, Bankruptcy, Records Expungement, Separation Orders, Child Support Orders, etc.) |
| Driving Record (10 Year Certified if possible) | Last Two Employment Performance Ratings |
| | TANF/Public Assistance Records |
It is very important that all applicants bring to mass processing their completed entry-level orientation documents. These documents will be provided to you at New Candidate Orientation.