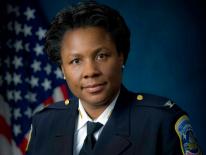 Commander Dierdre N. Porter joined the Metropolitan Police Department in August 1990. Commander Porter has served in numerous patrol and administrative support positions as she progressed through the ranks during her 23-year tenure with the Metropolitan Police Department.
Commander Porter has been assigned to the First, Second, Sixth and Seventh Patrol Districts. In addition, Commander Porter has served in several specialized units to include Criminal Investigations Division, Regional Operation Command-Central, Communications Division and the Office of Professional Responsibility. Commander Porter served as the Commander of the Prostitution Enforcement Unit, for which she developed Standard Operations Procedures and substantially increased the unit's arrest statistics. Commander Porter was instrumental in the development of the Regional Operations Command - Central Clergy-Police Community Partnership, as well as during the initial coordination of the agency's efforts to comply with the Memorandum of Agreement between the Metropolitan Police Department and the Department of Justice. Commander Porter has served on several working groups that were instrumental in the restructuring of the organization of the Metropolitan Police Department. Commander Porter has also served in administrative positions within the Second District, Regional Operations Command – Central, Office of Professional Responsibility and Criminal Investigations Division. While serving as the rank of Inspector, she was assigned to the administrative office of the Patrol Services and School Security Bureau, which included all seven patrol districts, School Security Division, Special Liaison Unit, Central Cell Block and the Office of Community Outreach.
She became Commander of the Fifth District in February 2014. In June of 2015, she was named Commander of the Internal Affairs Division.
Commander Porter holds Bachelor's and Master's Degrees in Business Management from Johns Hopkins University.