October 29, 2004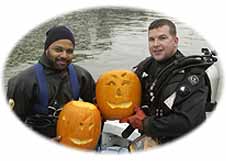 Potomac River, Washington, DC - In keeping with the holiday spirit, SCUBA divers from the Metropolitan Police Department's Harbor Patrol Underwater Search and Rescue Team made some adjustments to their monthly training scenario. Instead of diving for training dummies or items of evidence, they held a pumpkin carving competition…underwater.
Officers Theodore Anderson and Dave Nutter
pose with their diving partners
Divers were required to don SCUBA gear and dive to the bottom of the muddy Potomac with a whole pumpkin and resurface with a fully carved work of art.
Sergeant Mitchell Armstrong, Harbor Patrol: "The divers worked in near zero visibility and actually came up with some pretty attractive Jack-o-lanterns; were really very proud of them. Although we haven't had to respond to a gourd related emergency that I know of, I think were ready. It was also good chance for our divers to work on some underwater fine-motor skills.

Officer Theodore Anderson, MPD Harbor Patrol USRT Instructor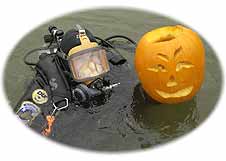 Officer Dave Nutter, MPD Harbor Patrol USRT Instructor