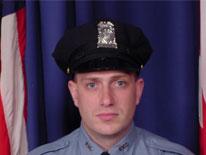 October 30, 2010

It was a pleasure knowing you at MPD 7D. And although it has been yesterday since the moment we lost you, your memory lives on in our hearts and minds. We wish all those you loved continued strength and faith.
Ibby Piracha
—Submitted November 5, 2010
---
Date of Death: October 30, 2010
Rank: Officer
Age: 32
Years of Service: 1
Marital Status: Married
Location of Death: 2400 block of Martin Luther King Avenue, SE
Circumstance:
On Saturday, October 30, 2010 at approximately 1:30 am, Seventh District Officer Paul Dittamo and another officer were responding to an incident within the 1400 block of Morris Road, SE. Their vehicle was traveling northeast on Martin Luther King Jr. Avenue, SE when it collided with a wooden Pepco pole within the 2400 block of Martin Luther King Avenue, SE. Personnel from DC Fire and Emergency Medical Services transported both officers to a local hospital.
The driver of the vehicle, Officer Dittamo, succumbed to his injuries and was pronounced dead at 2:06 am. The other officer who was a passenger sustained non-life threatening injuries.
Thirty-two-year-old Officer Dittamo had been a member of the Department since June 2009. He was assigned to the Seventh District. He is survived by his wife, Shana Dittamo; parents, Hector and Theresa Dittamo; and seven sisters and brothers.
Return to the list of fallen officers.