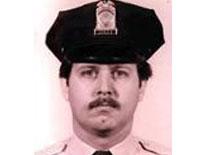 Date of Death: August 4, 1986
I am a TV news photographer retired from WUSA TV living in Memphis and it is 2008. However it seems like just yesterday that we lost a superb officer and gentleman named Kevin Welsh. On that day in 1986, I walked into the newsroom and saw the story being broadcast of how an MPD officer had lost his life trying to save the life of someone attempting suicide. With several thousand officers on the force at that time, I still said out loud, "Oh my God, I hope that wasn't Kevin Welsh or Steve O'Dell," and they then announced the name -- Kevin Welsh.
The fact that those two officers came to my mind was because that's the kind of men that they were, and it is no surprise that they were partners. I had met Steve when we did a story on how he had saved a little girl from a burning house and had taken her under his wing from then on. Kevin and I met only about six months before his death. I was on stakeout in front of Superior court and Kevin stopped to ask me what was going on. We talked several times after that and I found him to be a genuinely nice person and a real gentleman, just like his partner Steve.
Later, I became aware of what top-rate police officers they both were. Unfortunately it was just a matter of months before his death. One of the saddest storys I've ever had to cover in my 38-year career was Kevin's funeral. Seeing his widow close to bringing his third child into the world and his two sons had battle-hardened newsmen weeping.
I hope his wife and children are doing well. And, as for me, I'll always be pround that I had the priveledge of knowing both of these men.
— Kline H. Mengle, Bolivar,Tennessee
Submitted February 2008
---
Remembering you, Kevin.
— Your friend
Submitted August 1999 (via Washington Post)
---
Date of Death: August 4, 1986
Rank: Officer
Age: 34
Years of Service: Seven
Marital Status: Married
Children: Two
Location of Death: 11th Street Bridge, SE
Circumstance:
Officer Welsh and his partner, Officer O'Dell, answered a radio call for the rescue of a "jumper." The officers arrived on the scene and jumped into the river to rescue the female who had jumped from the bridge. Suddenly, Officer Welsh indicated that he needed help, but went under and drowned before he could be assisted. Officer Welsh's body was recovered four hours later.
The female jumper was a mental patient from St. Elizabeths Hospital.
Return to the list of fallen officers.