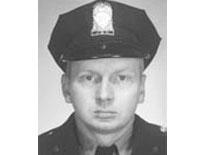 Date of Death: May 25, 1971
It has been almost 13 years since I retired from the MPDC. When looking over this site, memories came back to me of several of those officers who were killed in the line of duty. I personally knew at least five fellow officers who paid the supreme sacrifice...Mike Acri (whom I worked with in K9), Bill "Siggy" Sigmon (the first officer I worked with on a walking beat in old #8 in 1968), Gail Cobb and Bob Remington (also fellow Second District officers), and Steven Williams (one class ahead of me in Rookie School).
I was proud to have been associated with them as a member of the Metropolitan Police Department. I don't think I will ever forget their names.
— Charles N. Barrett (1967-1987)
Submitted July 25, 2001
---
Date of Death: May 25, 1971
Rank: Officer
Age: 34
Years of Service: 13
Marital Status: Married
Children: Two
Location of Death: 5185 MacArthur Boulevard, NW
Circumstance:
On May 25, 1971, two suspects robbed the Savings and Loan on MacArthur Blvd., NW, and fled on foot. Officers Sigmon and Swartz were in the rear of the bank and gave chase to the suspects. As the suspects ran up a steep flight of stairs, the officers engaged them in a gunfight. Officer Sigmon was able to wound one suspect three times, before the other suspect, Lawrence Caldwell, shot him once with a .45 caliber handgun.
Officer Sigmon was shot in the heart and died on the scene.
Return to the list of fallen officers.