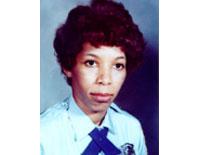 September 20, 1974
It has been almost 13 years since I retired from the MPDC. When looking over this site, memories came back to me of several of those officers who were killed in the line of duty. I personally knew at least five fellow officers who paid the supreme sacrifice...Mike Acri (whom I worked with in K9), Bill "Siggy" Sigmon (the first officer I worked with on a walking beat in old #8 in 1968), Gail Cobb and Bob Remington (also fellow Second District officers), and Steven Williams (one class ahead of me in Rookie School).
I was proud to have been associated with them as a member of the Metropolitan Police Department. I don't think I will ever forget their names.
— Charles N. Barrett (1967-1987)
Submitted July 25, 2001
---
Date of Death: September 20, 1974
Rank: Officer
Age: 24
Years of Service: 1
Marital Status: Single
Children: One
Location of Death: 20th and L Streets, NW
Circumstance:
Officer Cobb was walking a footbeat, when a citizen reported to her that a man with a gun just ran into the parking garage. The man, a robbery suspect, was running from other officers.
Officer Cobb confronted the man and made him place his hands on the wall. As Officer Cobb attempted to use her radio to call for back up, the suspect drew a handgun and shot her once. The bullet hit her arm and entered her heart.
Officer Cobb was the first female officer to be killled in the line of duty for the Metropolitan Police Department.
Return to the list of fallen officers.